Posted on 7th Apr 2014 at 13:20 by Antony Leather with 22 comments
As we reported
here
, Intel has announced the rest of its 2014 line-up. However, I for one am extremely excited by what the future holds for LGA1150.
With Broadwell being delayed and Haswell seemingly focusing more on power efficiency than giving anything significantly new to the enthusiast and performance user, I was pretty amazed when I read the finer details of Intel's latest roadmap that was announced on 19th March.
In the press release, the company has announced its intentions to better-support the enthusiast and overclocking communities and has detailed a couple of very interesting products.
The first is a new Pentium that will feature an unlocked multiplier to celebrate 20 years of the brand. Could this be the first cheap overclockable CPU since the likes of the Pentium G9650, all the way back on LGA1156? If so, it could prove a huge boon to those looking to overclock on a budget and give a massive boost to overclocking and the enthusiast market.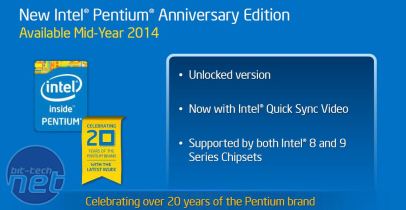 Click to enlarge
At the moment we're forced to buy comparatively expensive K-series CPUs, and there have only been two to choose from for each of the last several generations too. It never used to be this way and certainly for the majority of my overclocking life, it wasn't a case of
if
you could overclock a CPU, it was a question of which one out of an entire range of CPUs was the best at it.
If the Pentium retails for current Pentium prices - ie around £80-100, but you can add 500-1000MHz to the clock speed, this could potentially match the performance of a Core i5, at least in software that isn't massively multi-threaded, and give AMD's cheap FX-series CPUs some competition too.
The new Pentium will be supported by current 8-series chipsets and also forthcoming 9-series chipsets, presumably Z97, although we'll have to wait and see whether it will need a BIOS update to run in current boards.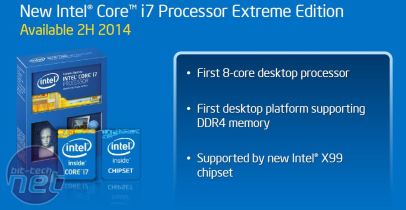 Click to enlarge
Another gleeful bit of information is that Intel will also be launching its first 8-core desktop CPU. The monster will likely feature hyper-threading, for 16 threads in total, will also support DDR4 and will be supported by the new X99 chipset.
Ivy Bridge and Haswell CPUs meanwhile have suffered from hot-running chips, especially when you've overclocked them. It's fairly common for people to de-lid their CPUs - having done so with my Core i5-3570K, I can honestly say it made a huge difference. However, Intel appears to have admitted the issue as it will be introducing 'Improved thermal interface material' to the expected Haswell refresh CPUs, codenamed Devil's Canyon, due out this summer.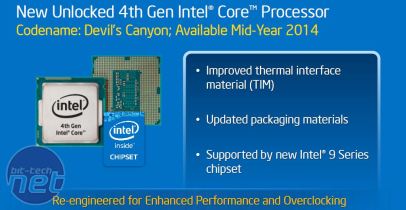 Click to enlarge
As well as the expected performance boost that comes with every refresh, this could mean better overclocking too. The new CPUs are slated to be supported by a new Intel 9-series chipset, although it's likely Z87-based boards will support them via a BIOS update too.
Finally, there was scant information on Broadwell - Intel's 5th gen Core processor range. However, it did confirm the new CPUs would be based on a 14nm manufacturing process, will feature unlocked CPUs, and for the first time, offer its Iris Pro Graphics to socketed unlocked processors too, which could give AMD some competition in the APU department.
It looks like we could have some exciting new products just around the corner. Let us know your thoughts in the comments.