Posted on 22nd May 2014 at 09:36 by Antony Leather with 85 comments
I've been in somewhat of a dilemma recently. My aging Saitek Eclipse membrane keyboard has been slowly giving up the ghost (falling to pieces is more accurate, but then it is over five years old) and I've been doing some research into what to get next. Being a tech journalist, having a good keyboard is akin to a carpenter owning a good set of tools - as such, money isn't really an object (you'd struggle to find a typical gaming keyboard that costs much more than £100 anyway).
The main issue, though, is that despite countless keyboards having come through our lab, I haven't really used one that I like - Matt can attest to this as I've been tapping on every keyboard that I could find and walking away disappointed. This is mainly because we, like most other tech review sites, are primarily focused on looking at mechanical switch keyboards - blue, black, red, brown etc. Cherry MX switches are certainly all the rage, but like quite a few other people I've come across, I haven't taken to the craze at all.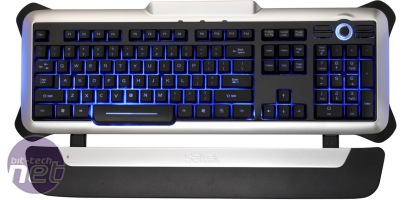 One of the variants of the Saitek Eclipse - a pretty good, if basic, membrane keyboard - click to enlarge
This is mainly because of the noise they make, and I've tried all four main switch colours on various different keyboards. I do have a thing about this, though - noise is one of my pet hates when it comes to PCs and it's one reason my main PC has been fully water-cooled since about 2003. However, I've seen and heard of plenty of instances of office colleagues receiving complaints about their noisy keyboards too.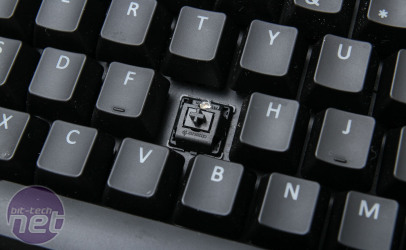 Out of all the Cherry switches, the black was my favourite but even it was quite loud - click to enlarge
Even during a weekend recently when I borrowed a black switch keyboard for the weekend, my better half noticed instantly when I switched from membrane to Cherry switches, and spent the rest of the weekend in the garden. Admittedly, it was very pleasant weather outside but she knew exactly when I was on the PC from the noise. The noise isn't just annoying to other people, though - I find it pretty intrusive to type on these keyboards too, however more tactile and responsive they are.
This leaves people like me in a bit of a desperate situation. I love some of the features that are being added to the latest keyboards - USB hubs and backlighting especially, but finding a decent membrane keyboard with these features is extremely difficult. Recently, though, I found a possible solution - Cherry switch dampeners - specifically rubber o-rings that you can insert under the keys that reduce the noise caused when the keys bottom out.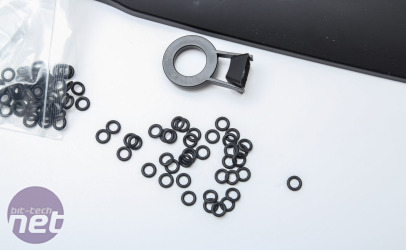 The o-rings sit under the key caps preventing them from bottoming out - click to enlarge
I purchased a pack from
OcUK
and spent half an hour or so adding them to a Mionix Zibal 60 keyboard with black switches. The difference in noise was certainly noticeable - the bottoming out tapping noise was nearly eliminated and the feel of the black switches wasn't altered too much either, although it was still much noisier than my old Saitek Eclipse.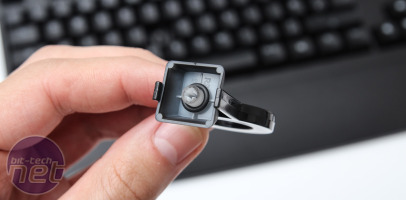 It takes a while to fit the o-rings but it's easy to do and does reduce noise without completely ruining the tactile feel - click to enlarge
However, my ears were now focusing on the upwards tapping noise - when you release a Cherry switch key, there's quite a thwack as the key bounces back up to its rest position. Sadly, there's nothing I know of that you can do about this and it seems that, for now, I'll have to give up my quest of modding a mechanical keyboard to suit my needs. Thankfully, the Saitek Eclipse is still available, albeit in a slightly revised version in the form of the Cyborg V5, so I now have one sitting on my desk.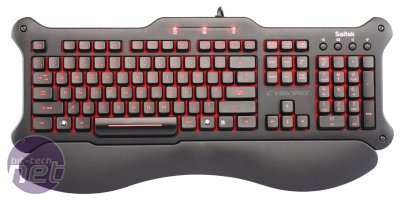 The Cyborg V5 is still readily available and it's membrane feel has been tweaked compared to the older models and is quieter and more tactile - click to enlarge
It's even quieter than the original Eclipse - in fact it's keys are practically silent compared to my dampened Mionix Zibal 60. Have you struggled to get on with mechanical keyboards? Have you modded yours or found a good membrane alternative? Let me know in the comments.