Posted on 10th Apr 2014 at 08:59 by Antony Leather with 25 comments
After a couple of years of mediocre progress, we're seeing some genuine innovation with cases that are leaning ever more towards water cooling. Pretty much every medium to large case that's released these days - even smaller mini-ITX ones on occasion - sports double, triple or even quadruple fan mounts, and though these of course boost air cooling potential too, they also allow for larger radiators to be installed.
Manufacturers such as Corsair and NZXT are now in the habit of listing radiator compatibility in their case instruction manuals too - they're clearly taking it seriously and rightly so. Water cooling is one area of the PC industry that has certainly been growing over the last few years with all-in-one liquid coolers and full-on custom water cooling topping cooler graphs and featuring in many eye candy-filled systems - both modding projects and standard builds alike.
However, there is one small issue with many cases - specifically their radiator mounts. They're usually designed only for half-height radiators, which lack surface area and thus cooling potential compared to their full-height siblings, and many cases also seem to be listing radiator and water cooling compatibility as little more than tick-box features.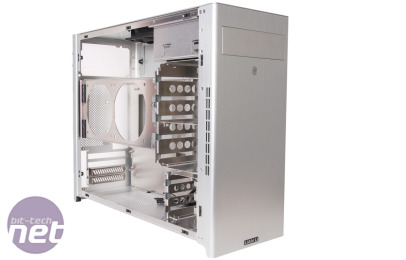 Some manufacturers are shunning space for large air coolers in favour of radiator mounts such as Lian Li with is PC-V360 - Click to enlarge
My point here is that when you try to install a water cooling system in one, there's so little space that tube kinks become a real issue and there's also little thought as to where to put pumps and reservoirs. One big factor here is that case manufacturers aren't actually that concerned with custom water cooling loops (as in separate components connected together at home) and rather more with all-in-one systems such as a
Corsair H80i.
It's not just Corsair and NZXT, who incidentally make some of the best all-in-one liquid coolers out there, that are doing this. After all, you can forgive them for promoting a combination of their own case and cooler, but plenty of other manufacturers are doing it too.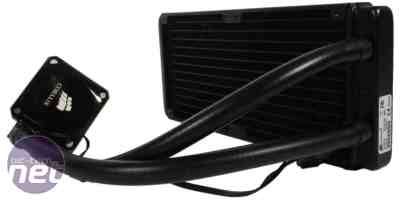 Many all-in-one liquid coolers come equipped with half-height radiators while larger radiators are available with custom water cooling that can provide additional cooling capacity
For instance, I've recently borrowed the
Lian Li PC-V360
we looked at recently to see how well it can cope with a water cooling system, seeing as it has a dedicated dual 120mm-fan radiator mount in the side panel and is too slim to fit large air coolers.
In short, it wasn't easy at all and I had to use anti-kinking springs on the tubing for everything to fit inside - and that's using the skinniest radiator I could find. Also, this turned out to be only just capable of cooling my overclocked Core i5-3570K and GeForce 660 Ti with the fans on full blast, which for me half defeats the point of water cooling, which is noise reduction.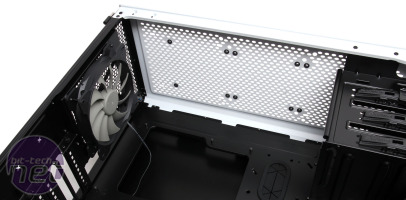 You usually have to opt for larger cases such as Corsair's Graphite 760T, but just a few changes could mean smaller cases are just as water cooling-friendly - click to enlarge
Even with an all-in-one liquid cooler things would be tricky, but as we speak I'm in the process of dismantling the system to go back to my trusted BitFenix Prodigy, which is much more water cooling friendly. Of course, that's my point; some cases do work well with water cooling, the Prodigy being one of them. It's also far from being a large case - the PC-V360 is taller and deeper but can't quite decide whether to jump off the fence on the air cooling side or water cooling side.
A lot of the issues, then, revolve around radiator depth, and at the moment, many case manufacturers are content to leave their cases with the bare minimum. You probably can't blame them to some extent as the vast majority of all-in-one liquid coolers use skinny radiators - one reason why a custom kit with a full-height double or triple 120mm-fan radiator will likely perform much better and quieter with an overclocked CPU.
So, what would I like to see? Better consideration for water cooling enthusiasts for one, but this could just as easily be brought about by all-in-one liquid cooler manufacturers beefing up their radiators too, especially where double fan radiators are concerned. That way, we don't only get better cooling from their own coolers, but you won't have to opt for enormous cases or go through the hassle of having to use multiple radiators too. It wouldn't require massive changes either - a few small modifications to existing case designs could make a world of difference.
How do you think current cases could be improved for water cooling purposes? Let us know in the forum.