Gaming 25 - Hegway Seaven
Posted on 1st May 2011 at 10:28 by Podcast with 14 comments

It's only a short week this week what with all the bank holidays and such like but Paul, Joe and Clive still managed to find time to sit down and mull over some of the goings on in the gaming world.
First up, predictably, is the current situation with Sony's PlayStation Network. The service is currently down due to a
hacking attack
and Sony are
currently rushing to rebuild the network
from the ground up. This is little comfort to the 75 million PSN users though who have been told that the hackers made off with their personal details and possibly their
credit card details too
.
We then move on to discuss
Portal 2
and what we thought of one of the most eagerly anticipated games of the last 12 months. There is no doubt that the game is great fun, but there are a few niggles in there too.
Finally up for debate is Nintendo's announcement that it's
working on the successor to it's immensely popular Wii console
. The console is currently titled Project Cafe and there are only a few shaky details about the specifications of it but it's interesting to see Nintendo setting out its stall relatively early on in the next-gen console wars.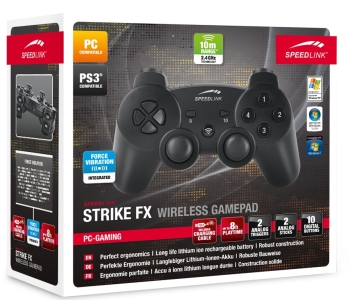 As always, we've also set up our weekly competition too, the lucky winner of which will walk away with a
Speedlink Strike FX wireless gamepad
. This game pad is compatible with both the PC and PlayStation 3, and functions at distances of up to 10m.
As ever, the
bit-tech
hardware podcast features music by
Brad Sucks
, and was recorded on
Shure
microphones. You can download the podcast direct, listen in-browser or subscribe through iTunes using the links below. Also, be sure to let us know your thoughts about the discussion in the
forums
.