Gaming 24 - A Lovely Battlefield
Posted on 10th Apr 2011 at 10:21 by Podcast with 18 comments

Battlefield 3, Portal 2, Alice: Madness Returns and Crysis 2 - those are the topics of conversation this week. We also discuss why StarCraft II is awful, and why Clive thinks Shogun 2 is
'lovely,'
rather than
'awesome.'
This week sees
bit-gamer
regulars Joe, Clive and Paul joined by a fresh face too; our new intern David Hing was brave enough to both lend us his vocal cords
and
sit opposite Harry this week. That boy has guts!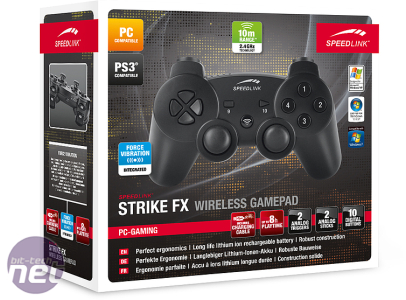 Want to win? Listen in!
As well as the usual rants and discussions, the podcast also features the regular competitions and reader mail slots. We've got a new prize up for grabs this week too - a Speedlink Strike FX Wireless Gamepad, kindly provided by Speedlink - so listen in for your chance to win.
As ever, the
bit-tech
hardware podcast features music by
Brad Sucks
, and was recorded on
Shure
microphones. You can download the podcast direct, listen in-browser or subscribe through iTunes using the links below. Also, be sure to let us know your thoughts about the discussion in the
forums
.