The Cheesecake Podcast 2009
Posted on 25th Dec 2009 at 09:11 by Podcast with 32 comments

Here it is; the second official
bit-tech.net
and Custom PC cheesecake podcast, which sees Clive, Alex, Harry, Richard and Joe sitting down to munch their way through six entire cheesecakes. At the end they try to give a verdict on which one is best - with the operative word being 'try'.
There's a transcript up on the front page for those of you who prefer the retro format like our previous cheesecake supertest, but the podcast contains a fair bit of extra content for those of you who want to go with a full-fat option.
The transcript and the podcast do differ a bit admittedly - there was an aborted five minute introduction that we cut from the audio but left in the transcript, along with a few other things, so don't count on them being identical. The audio isn't as clear as normal either - it's hard to stay focused when you're buoyed up on enough sugar to kill an elephant!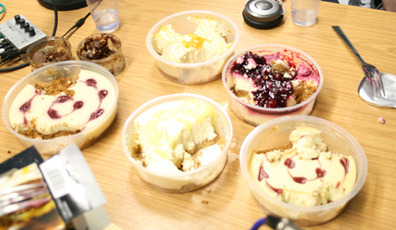 We'd like to take this chance to say thank you to all our readers over the past year too - especially all of those in our very vibrant and verbose forums! It's you guys who help keep us in jobs (and cheesecake) and we very much appreciate your continued support.
Ok. Enough with the sappy, on with the sugar! Have a fun holiday and let us know your thoughts in the forums.