Series 3, Episode 7 - OnLive, Game Testing and Team Fortress 2
Posted on 7th Sep 2009 at 17:36 by Podcast with 15 comments
In the third gaming-only CustomPC and
bit-tech
podcast we talk about the theory behind OnLive, Sony's new PlayStation 3 reality TV show 'The Tester' and the controversies that have broken out around
Valve's new anti-cheat measures in Team Fortress 2
.
Moving on from that we recap on what we've all been up to lately, from playing with the
Novint Falcon
to taking a look at the much-delayed
Battlefield 2
patch.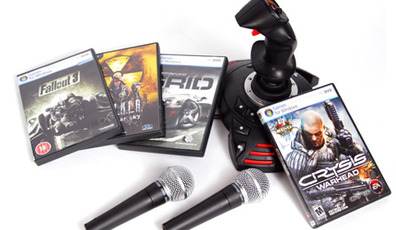 Click the links below to listen to the gaming podcast!
On top of all that we discuss what the difference is between someone who delivers packages and someone who cooks curry for a living, why wolves are exciting and why we should never record a podcast before lunch. Alex and Joe also narrowly avoid coming to blows when discussing
The Beatles: Rock Band
.
We've also got all the usual prizes and competitions, plus we're asking you all for questions and ideas to be featured in the next gaming podcast - so send your queries to Podcast-at-CustomPC-dot-co.uk, or simply drop them in
the comments thread
if you haven't got the hang of all this 'email' malarkey just yet.