Posted on 11th Feb 2009 at 09:24 by Joe Martin with 19 comments
Ah,
No One Lives Forever
. Definitely one of my favourite games ever and it has been ever since I played the singleplayer demo ages ago. The demo was three full levels long, which I remember thinking was unprecedentedly lengthy at the time.
Mostly though, I remember being wowed by one level in particular that takes place on a pilotless passenger plane, which you have to jump out of without a parachute. The aim of the next level is to grab a 'chute before your freefall comes to an abrupt end.
Essentially
Austin Powers: The Game
, Monolith's super-spy extravaganza is set in the middle of the sixties and casts players as Cate Archer – the only female operative in the secret Unity organisation. Also, after a string of assassinations from a group known only as HARM, the only operative actually left alive.
What makes
NOLF
such a great game, other than its length, is the sheer irreverence that it treats itself with. Everything is a stereotyped caricature of itself, from the leather cat-suited Cate, right through to the cycloptic Russian assassin, Volkov.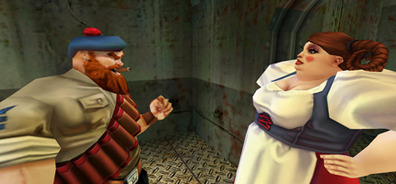 To dismiss
No One Lives Forever
as nought but a humorous shooter though is to do it a great disservice, in my opinion. There's so much more to the game than that.