Lego Dimensions is a surprising breath of fresh air
Posted on 12th Oct 2016 at 13:51 by Jake Tucker with 8 comments

I've spent a lot of the last week playing Lego Dimensions.
I didn't think I'd enjoy Lego Dimensions much, and stopped buying the Lego games after I got bored ploughing through Lego Batman 2: DC Super Heroes. Warner Brothers sent over a Lego Dimensions starter set and Lego Dimensions Wave 6 packs out for review and within 30 minutes I was hooked.
Lego Dimensions, for the uninitiated, is a Lego platforming game that mixes the now tried and tested formula of walking around and smashing blocks for Lego bits with real toys, actual Lego in fact, that you can put on an NFC scanner which brings them into the game in front of you.
I bought into Lego Dimensions when it asked me to start building all of these props for myself. First, the game asked me to build the Gate, the game's NFC reader, both in the game through my characters actions and then in the real world, me and my partner clicking blocks together while following the on-screen instructions.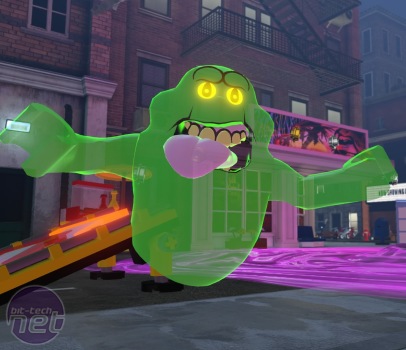 It does this again each time you need to build a vehicle. There becomes a plot reason for you to build the vehicle, or you put a new character on the scanner, and you get to play with Lego blocks for a while. It's charming, fun and allowed for a memorable co-op experience as one person built and the other yelled out instructions from the screen.
The real appeal of Lego Dimensions for me, though, is one shared by the team at TT Games. It's an appeal spelt out in the game's opening cinematic: what if Gandalf got saved from the Balrog in Lord of the Rings because Batman appeared out of an interdimensional portal and saved him with a grapple gun?
Hell, what if Homer Simpson could drive Ron Weasley's flying car around the first 10 minutes of 1996 action movie Mission: Impossible? Lego Dimensions has that. Lego Dimensions makes all of that possible and also, with Wave 6 content including Mission: Impossible, Adventure Time, Ghostbuster (2016) and The A-Team, seems to be entirely aimed at me. So far, we've mostly just played through the plot of Mission: Impossible, the new Ghostbusters film and the game's opening, which is set during The Wizard of Oz, and sees you battling The Wicked Witch of the West.
Lego Dimensions feels a lot like my childish experimentations with Lego in the real world, with playsets all getting mixed up, although in this case, the raft of different characters are all useful and have their own unique strengths. Harry Potter is magic, and can fly around on his broomstick, which gives him access to hard to reach areas.
This isn't a particularly critical look at Lego Dimensions, just an enthusiastic, 'this is a lot of fun!', and while I have some issues with the payment model for Lego Dimensions - that is, you buy the base game and then buy each pack of characters as a physical object separately, meaning to access certain areas of the game you'll need to buy a physical thing - if you've got the money and the inclination to fully get into it, it's the best Lego game I've ever played.
This, along with the stellar The Lego Movie, shows that Lego has a great sense of how to keep its brand interesting, and isn't afraid to target a few things at adults too. Lego Dimensions is great fun.