Bit-Gamer Competition #4
Posted on 12th Jan 2011 at 14:36 by Joe Martin with 96 comments

We may have only just come out of our tiny, smelly podcast studio, but we're still eager to give away more prizes in the name of bit-gamer.
This week we've got three PC games to give away courtesy of Paradox Interactive!
Forum Prize
- King Arthur: The RPG Wargame
Twitter Prize
- Majesty 2
Facebook Prize
- Mount and Blade: Warband
We're also giving in to popular demand and opening the competition to the forums - but with a twist. What we'd like you to do is
have a go on the Online Videogame Name Generator
and see us what titles come out as a result.
Then, if you want to win a copy of King Arthur, post the result to comments thread below this article. If you've got your eye on Majesty 2 then send your title to
@bit_gamer on Twitter
. Finally, if you hope to win Mount and Blade: Warband, post your game name on
our Facebook page
(you may have to 'Like' the page before you can post to it).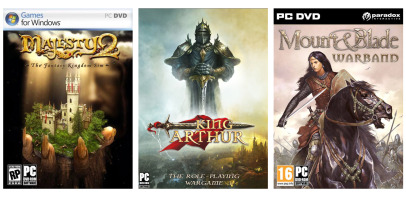 Want all three games? Enter three times!
You can enter as many times as you want and you can enter for all three prizes too as well. Winners will be selected randomly and announced on Monday 26th January. Pay attention to the Twitter and Facebook pages for other, more ad-hoc competitions too.
Speaking of which, it's now time to announce the winners of the last competition! Congratulations to Nick Bunce, Edwin Khoo and Mike Winder, each of whom grabbed themselves a copy of World of Warcraft: Cataclysm, a Blizzard t-shirt and a copy of Chris Ryan's Medal of Honor novella.
Now, start telling us what game names you've generated. Our first one is...
Sleepy Car Disaster
.