Bit-Gamer launch competition
Posted on 13th Dec 2010 at 11:06 by Joe Martin with 32 comments

Things have changed for bit-tech's games content recently. You might have noticed the new logo and backgrounds, not to mention the new
Hall of Fame article
which we'll be updating regularly in the future. You might be wondering why the name of your favourite games review site has changed from bit-tech to
bit-gamer
.
One other thing that's changed but which you might not have noticed yet is that
bit-gamer has its own Twitter account
now too – which is important because we're going to start doing regular prize draws and competitions using it. More on that in a minute.
Bit-tech's games content has changed a lot since I joined the company almost five years ago. We've changed our review style and the length of our articles, not to mention the type of games and platforms we cover. This last two years especially has seen a number of changes to bit-tech's games content, with new writers working on the site and a renewed focus on features and previews. Some of
my favourite articles we've ever done
have been written in the last year, for example, while today sees the introduction of a new regular column,
Critical Hit
.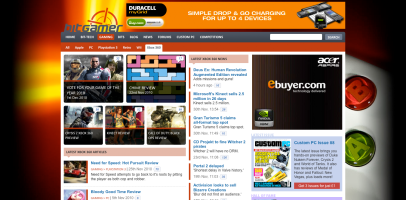 Over the next year, we plan to grow bit-tech's games content even further under the title of Bit-Gamer. Moving forward we'll be bringing you more articles, looking at more platforms and with a bundle of other new features, all without sacrificing any of the detail or quality that bit-tech has always been known for.
Naturally, we couldn't have grown like this if it wasn't for the support of you, our readers. We wanted to thank you – and what better way to do that than by giving away free games. We're going to be giving away a bunch of freebies every Monday to celebrate the launch of bit-gamer, starting today with three copies of Need for Speed: Hot Pursuit for the PlayStation 3.
To be in with a chance of winning, all you need to do is
follow @bit_gamer on twitter and tell us what your favourite game ever is
.
We'll be picking winners and sending out prizes later this week, but even if you don't win then we'll have more prizes lined up for next Monday, so stay tuned. In the mean time, you can let us know your thoughts in
the forums
.