I Heart WikiBooks
Posted on 29th May 2010 at 11:21 by Joe Martin with 21 comments

I'm a big believer in eBooks, not just because I think that's inevitably the future of publishing in the same way that digital distribution is the future of the games industry, but also because there's something that just appeals to me about eReaders themselves. It probably comes from watching too much Star Trek as a kid.
Don't get me wrong – I'm not saying that conventional books are obsolete and I'm not saying that within two years we'll have be carrying Kindles in our backpockets. I still buy 99.9 percent of my books in their traditional format, just like I still buy games on discs every now and then, but I do recognise digital formats as the future.
Anyway, one of my most recent sources of digitally digested delight has been Wikibooks. They are awesome.
Wikibooks are basically what they sound like – books made either from Wikipedia or from free content textbooks that suit the purpose. When stored online they function as nothing more than a hyper-linked table of contents for pre-existing pages, which isn't all that great. What they're really intended for though is use on eReaders, so you can download the books in a few different file formats and have the entire Wikibook available wherever you go. Basically, it's free text books which you can download either as .PDFs, raw text or in printable formats.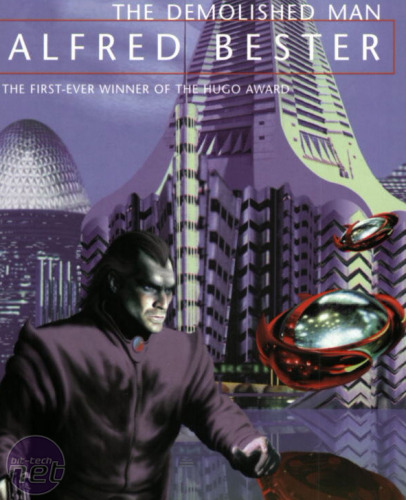 I couldn't think of a good picture, so here's one of my favourite book; Alfred Bester's The Demolished Man
The topics covered at the moment are nearly all educational and are mostly suited to very niche topics, like
Basic Physics of Nuclear Medicine
, but there's an increasing number of more general topics. There are
textbooks to help you learn how to make games
or which teach you
How to Assemble a PC
. There are books which collect the
History of the Elder Scrolls Games
or which tell you
Everything You Need To Know About Half-Life
.
Admittedly, there are issues. It's Wikipedia, so you shouldn't assume the information is faultless and the books are somewhat clumsily divided into
Wikibooks
(proper textbooks) and
Wikipedia Community books
(collections of Wikipedia articles), but for me the positives outweigh the negatives. eReaders are already pretty cool things, so being able to carry around
free cookbooks
or the
History of Superman
only makes them cooler in my eyes.