Books based on games: Halo
Posted on 20th Apr 2010 at 10:10 by Antony Leather with 34 comments
Before you start your ranting, if you don't know already from my mercenary attitude to buying hardware, anti-fanboy and anti-Apple attitude, then please don't think of me as just another Xbox owner who goes all giddy on the day a new Halo game has launched.
In fact I've never owned an Xbox and never played any Halo games on one. I've only ever played
Halo: Combat Evolved
on the PC but while I did think it was a very enjoyable game, especially online, that's not why I'm here. Being a Sci-fi nut, I love most things futuristic. I'm also pretty keen on warfare and action in general (in fiction!) so when by accident I picked up a book called Halo: The Fall of Reach, being quite into Halo Combat Evolved at the time, it turned out to be one of the best books I've ever read.
Most people raise their eyebrows when I've said that I've read the Halo books but what they don't realise is there's a fascinating story behind the games - and it genuinely makes me wish that someone could make a film about it. Indeed at one point they were going to, with no less than Peter Jackson named as producer and scripts and millions of dollars changing hands at one point. Alas it was put back into development hell, although there's some prospect for the future.
The story starts when the human race, by this time exploring the galaxy in the 26th century, meets a race called the Covenant. They turn out to be world destroying bad guys who have discovered ancient technology made by a long dead, technologically advanced race, learned how to use it and proceed to search for more of it.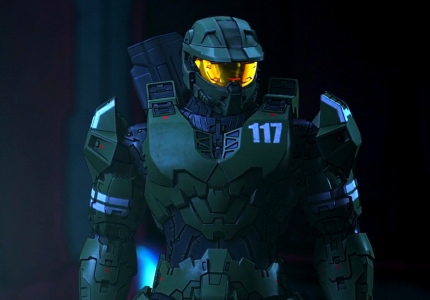 Masterchief - if Oakley still makes sunglasses in the 26th Century, it probably made his helmet
Things get pretty dicey for the humans, so bad in fact they are forced to create biologically enhanced super soliders called Spartans. Picked by searching through DNA databases of children who will grow up to have the best physical and mental attributes of their species, the children are abducted into training and replaced with clones that later die.
The process of child to Spartan is fascinating and had me totally hooked. So much so that I've read the entire saga and eagerly await any new releases. They tie in brilliantly with the games, giving them much more purpose. For instance the Halo ring is actually one of many such rings, built by the ancient race to wipe the galaxy clean of life in the event the flood, who you would have encountered in
Combat Evolved
, got off the ring world and started to infest everything and everywhere.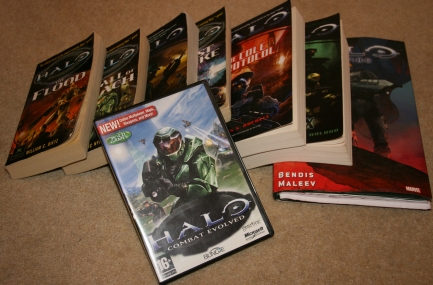 Every book had me gripped - so much so I even stayed in doors for days reading one whilst I was on holiday in Portugal a few years ago!
While I don't know if the books would appeal to someone who hasn't played any of the games (for instance you appreciate how terrifying it might be to come face to face against a hunter) the raw humanity of the stories, wide ranging time span and awesome action made the saga one of my favourites in the gaming world.
There's even a site (
halothemovie.org
) dedicated to the movie and has some of the promotional movies that were made to generate interest.
Have you ever read novels based on a game franchise? Were they just as entertaining as the game or were they a waste of a perfectly good tree? Let me know in the comments!