The Greatest Gadget
Posted on 5th Mar 2010 at 11:32 by Joe Martin with 19 comments

We got some new gadgets the other day, when Creative swung by the office and were nice enough to deposit some of their new gear for us to take a look at. I was particularly taken by the new Creative Vado HD, which is a small digital camcorder. It's really a rather fantastic bit of kit, to be honest.
The Vado HD is smaller and thinner than my wallet (but not lighter than it, ho-ho!) and really simple to use. It's got a built in USB cable that tucks out of the way nicely, plus a port for plugging in headphones, speakers etc. The screen is a good quality and the battery and storage can manage about two hours of HD recording from a single full charge. Stonking stuff.
The only really problem with it in fact are the little touch sensitive buttons, which can be a little fiddly. Other than that it's an instant-on, high quality digital camcorder. It's wonderful but, as I played with it at home last night, it struck me that it's still by far not the best gadget I own.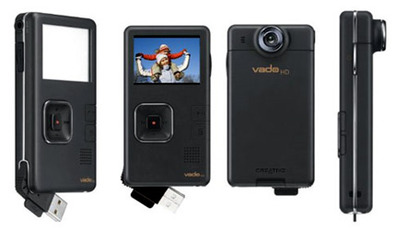 The Vado HD
I'm a big fan of gadgets, which I define as small and stylish little gizmos that can be easily carried and which can be used for a range of day to day things. The Creative Vado HD is a digital video camera, but it's also a gadget.
The iPhone too is a gadget, as well as a phone. It's carried as much for it's plethora of apps and stylish design as it is for it's (often malfunctioning) phone capabilities. I don't have an iPhone, only an iPod Touch – but I still carry it with me even when I don't have my headphones because it, as a gadget, has many uses. In this day and age we're flush with such gizmos and such devices are more often than not sold to us on the idea rather than the reality. I rarely need to use my iPod for anything at all, but I still have it in my back-up
just in case
.
The question, of course, is 'in case what?' and the fact that there's no definite answer proves it is a gadget rather than something with an actual dedicated purpose.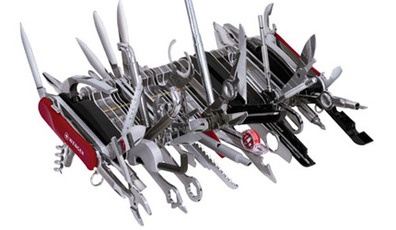 I have big pockets
To me, the best gadgets ever are definitely the classics though – the Swiss Army Knife and cigarette lighter, not these fancy little technological marvels. I don't smoke and I rarely need to fashion a spear or peel a bit of fruit, but I'm reluctant to go anywhere without my Swiss Army Knife and cigarette lighter in my pocket. Why? Just in case.
It's always interesting to see new products being marketed as a 'must have gadget', especially when they are things that close inspection reveals to fall between the cracks of user needs. The Vado HD, for example, doesn't have a specific use or customer that it's targeted to. You're as likely to record your son's first words on it as you are to record a documentary. With so many gadgets being pressed upon us in this modern age though, I'm prioritising what I have in my pockets a bit more carefully – so I expect I'll be leaving the Vado HD at home and keeping hold of my Swiss Army knife for the moment.
I may occasionally put my hand in my pocket and accidentally stab myself on the built-in scissors, but I think that's a small price to pay for what I'm convinced is still the greatest gadget ever made.