Recommend Me A Board Game
Posted on 27th Nov 2009 at 10:48 by Joe Martin with 49 comments

My love of games extends further than just computer games, you know. I'm also something of a board game fiend – a fan of games in any form, to tell the truth. In the last few months I've especially enjoyed getting together with a few friends to play some board games, and that enjoyment is hopefully going to be buoyed further by a recent discovery of mine.
I found a really cool shop in the centre of nearby Reading – one which I've walked past many times but only recently investigated. It's called
Eclectic Games
and is a board game and collectible card game specialist.
Eclectic Games is very much My Kind Of Place. It's large and warmly decorated, with a huge selection of games, both niche and well-known. It also has a library of games - which you're free to try out in the gaming hall out back - and the owners regularly organise events where you can meet other gamers and get involved in tournaments. It's small enough to be charming and independent too – exactly the type of place I'd like to support with my patronage.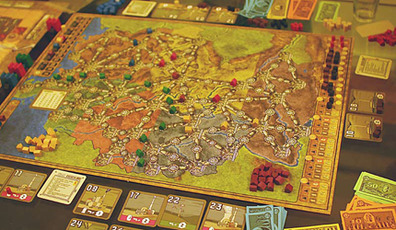 I'm looking for a game that's not too complex
The only problem is the overwhelming amount of choice on offer, as I'm not exactly in a position to take up another new and expensive hobby like
D&D
or
Magic: The Gathering
. So, I need your help picking a new game to play – as well as a few gift ideas, perhaps.
To give you some idea of my tastes, I'll say that I usually like games that have a random element or a large replay factor. I like games that have a good sense of humour or which provide a chance for players to talk while they play. It needs to scale to two players and if it caters for more than six then that's great. A playing time of 45 to 75 minutes is ideal and a horror or geek theme is considered a bonus, though the barrier of entry shouldn't be too high as to intimidate new players.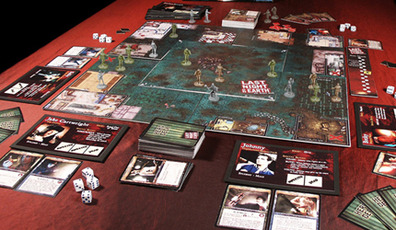 Current favourite game: Last Night on Earth
Other games I usually enjoy playing are things like
Atmosfear: The DVD Board Game
and I've recently fallen in love with Harry's copy of
The Last Night on Earth
. I'm partial to a bit of
Settlers of Catan
, though
Trivial Pursuit
makes it into the mix on occasion too. When I'm not playing with a larger group of friends then
Lost Cities
is something I like to play with my girlfriend in short, easy bursts, though I can swing to the other end of the scale with something like
Dune
.
Games I don't like are
Monopoly
, which I'm banned from playing on account of my competitiveness,
Zombies!!!
, which I found very disappointing and shallow and
The Key to the Kingdom
on account of it's complexity.
There are some titles that I'm explicitly interested in, such as
Arkham Horror
, but I'm mostly putting this out there because I want to find something new to play. Throw your suggestions in to the comments and I'll let you know what I settle on in a future post.