Free Games I Like: Gravity Bone
Posted on 18th Nov 2009 at 10:43 by Joe Martin with 3 comments

Gravity Bone
is by Brendon Chung, an indie developer I've long been a fan of and who has made some of my favourite indie games ever.
Gravity Bone
is his most recent and complete game, as well as the most stylised and striking.
Like most of Chung's games,
Gravity Bone
exists without any exposition or context. It just is and everything in it relies on inference, with explicit instructions being very rare and a streamlined level design ethic ensuring the common sense is all you need to play the game. Every game also contains a wicked sense of wit that makes them worth playing even if you hate everything else.
Gravity Bone
is about a hitman or a spy, who goes around doing spy-type stuff. There's but two missions in the game, which takes about ten minutes to finish. The first is a straightforward introduction with no real challenges. The second is where all the gameplay is, but I won't spoil why.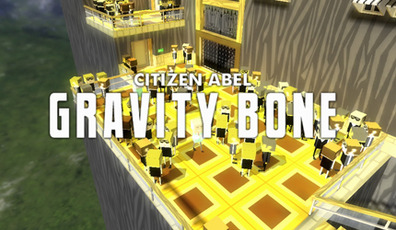 Gravity Bone!
Being utterly without context or explanation, it's possible that you might feel short-changed by the indifferent way that Chung opens and closes the game – which is something common to nearly all his games. If that's the case then I'd argue you've missed the point though, as
Gravity Bone
is really quite brilliant. It's arises out of nowhere and returns there soon enough, but in the middle you get quickly caught up in a sense of mystery and gentle bemusement.
Sinister!
Gravity Bone
is something I very much advise you to take a look at.
It's free to download
and is built on the
Quake 2
engine, so should run on pretty much any PC. If you liked it then I'd also suggest taking a look at Brendon's other games.
My other favourite games of Brendon's, which I may write about at a later date, are
Grotto King
– an FPS explicitly designed for people who have never played an FPS game and
Barista 2
, an unfinished project. You can get all of his games for free from his site.