What Game Should I Play Next?
Posted on 9th Mar 2009 at 15:40 by Joe Martin with 57 comments
Since
bit-tech.net
moved to the central Dennis offices in London, we've all had a real bitch of a commute. It takes two hours each way, meaning that I don't get home now until 8PM at the earliest. The upside of this is that I'm getting a lot more reading done on the train on the way to work. The downside is that I'm at home less, so can't do as much PC gaming.
The reduction in time is making me value my gaming time a lot more too – so I'm reluctant to just replay my old catalogue of games and I don't want to go over previously-reviewed titles.
Thus, I wanted to put it out there to
bit-tech.net
readers and take suggestions on the matter;
What game should I play next?
Seriously, I'll take any suggestion as long as it is on PC and not something I've already revieed. Old or new, I'll look through your suggestions, pick one, buy it, play it and do my next blog post on it. The more obscure the suggestion, the better.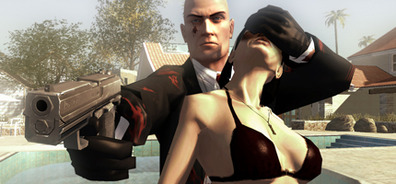 That request though isn't quite enough for me to pad out and make a full blog post out of. Instead, I'll talk about my continued adventure through the
Hitman
franchise, which I've been slowly exploring ever since I bought the full collection a few weeks back.
I've just got through to
Hitman: Blood Money
and I've already tagged it as one of my favourite games. I love that it's just so much more free and explorative than the previous games – every level has dozens of ways to kill your targets, ways to frame your work as an accident. You can engage in hand-to-hand combat, throw weapons, upgrade your arsenal and read about your exploits in the newspaper at the end of every level.
What I love most though is the wry sense of humour that the game has and the way it uses it to turn common film and game motifs on their head. The game especially seems to pick on the conventions of classic cartoons, using them as inspiration for the levels.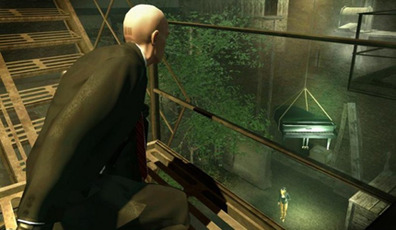 There's one level for example where you have to assassinate a mobster who's been put into witness protection. He's living in the suburbs, guarded by a handful of FBI suits and he's always grumbling about that kid next door – the one with the treehouse and the air rifle. It's a clear tip of the hat to the old Dennis cartoons and it conjures a gleeful sense of childish mischief. It's mischief turned macabre though, as this time you're loading bullets into your rifle, not pellets, and your aiming to assassinate, not annoy.
A few levels later there's another similar mission, set during Mardi Gras where you have to take down three other assassins all disguised in Big Bird outfits. Stalking one prey in particular it isn't hard to uncover the silent way to kill one of them – there's a music shop where one of them pauses in patrol, directly beneath a piano.
Rigging the piano to fall isn't hard work, but suppressing the giggles when you look back on the event later and realise you've essentially re-enacted a scene from the
Roadrunner
cartoons is. That dark sense of humour that IO Interactive built into
Hitman: Blood Money
is something I truly appreciate – so bear that in mind when you're recommending me a game to occupy myself with over the coming weeks.
Joe, Out.