Intel NUC - a mini-PC revolution?
Posted on 25th Feb 2013 at 10:00 by Antony Leather with 22 comments
It's an immensely exciting time for anyone interested in small form factor hardware. Whether you're gaming and performance focused or interested in gear perfect for an HTPC, there's plenty of new stuff arriving on shelves at the moment.
The Raspberry Pi phenomenon has ignited a growing obsession with ultra-small embedded motherboards – wallet-sized pieces of silicon with soldered-on low-power CPUs. They're not of much interest to gamers, for the simple reason that the CPUs included in most of these new dinky motherboards are picked to be able to deal with HD movie playback and that's about it.
Many can't even run Windows, although there's clearly plenty of scope for Linux-based systems and HTPC interfaces such as XMBC.
However, leaving Linux to one side, there is one new miniature motherboard that I find pretty interesting, especially from an HTPC perspective.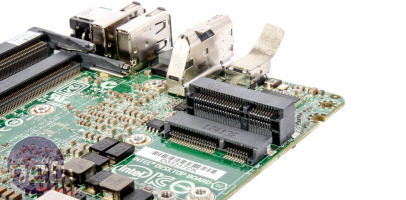 Click to enlarge
Intel's NUC (Next Unit of Computing) is essentially a sub mini-ITX motherboard with an embedded Intel Core i3 CPU. There are two models available at the moment, both sporting an Intel Core i3-3217U, and they can be bought with or
without a case
. Features are a little lacking, namely in the USB 3 department, but for a case, Core i3 CPU and motherboard, the asking price of a little over £200 isn't unreasonable, given that a mini-ITX system with CPU, cooler, motherboard and case retail for not a lot less. There are reports that a cheaper model will be released soon too.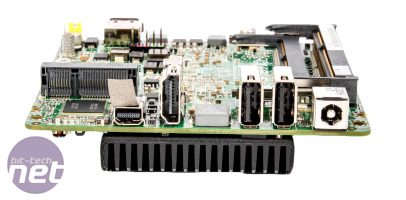 Click to enlarge
One model has Thunderbolt, the other a LAN port (they lack WiFi as standard too) but they both have one half-height mini PCI-E slot and above that a full-height one. The obvious choice here is to install a half-height WiFi card and m-SATA SSD. However, mini PCI-E to PCI-E adaptors do exist, which means you could then use a SATA 6Gbps PCI-E card, or even a combined SATA 6Gbps and USB 3 card. Whether these would be compatible we're not entirely sure but as soon as we get our hands on a unit, we'll let you know.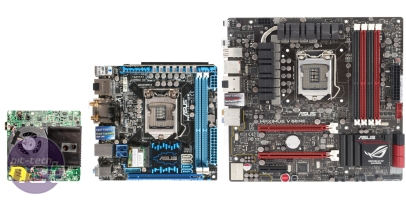 Actual size of the NUC compared to mini-ITX in the centre and micro-ATX on the right - click to enlarge
Size-wise, it's undeniably dinky. In fact it makes mini-ITX look big. It's not even that deep, despite the cooler being integrated and this is thanks to the ultra-low power mobile Core i3-3217U, which is of the Ivy Bridge architecture and has a TDP of just 17W. Seeing as you can run a full-fat desktop Core i3 with the lowliest of coolers, Intel is clearly playing to its strengths.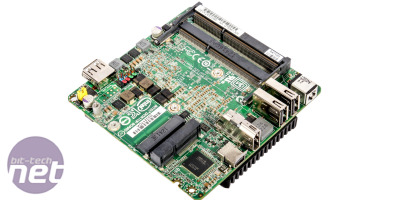 Click to enlarge
However, along with size and low power, the NUC has more than enough grunt to deal with tasks that would have flummoxed an Atom CPU, such as streaming high definition video. In that sense, I'm quite taken with Intel's new offering. It's not going to make a big entrance on the gaming or power PC scene, but its size alone will undoubtedly make it a worthwhile addition to your shopping list for an HTPC for example, and we've already seen pictures of it strapped to the back of monitors.
Personally I hate PCs that take up more space than they need to, and it's one reason I love small form factor cases and hardware. For this reason alone the NUC is very interesting, at least for general use, especially if you're not into demanding games.
What do you think about the Intel NUC? Let us know in the forum.