Just Cloud is a terrible backup service
Posted on 23rd Jan 2013 at 13:33 by Antony Leather with 50 comments
So, I've been duped. The story began in my quest for a hefty online backup service. I was after something in excess of 100GB to backup my important photos and other paraphernalia – stuff I'd probably shed a few tears over if the house was burgled or burned down.
Needless to say, anything like that isn't totally safe in your home, even if it's backed up. And not one to go through the palava of dumping stuff onto an external backup drive and leaving at my parent's house, I was also happy to ditch the idea of buying a 2TB drive and shoving it in the shed and investigate online backups instead.
There are plenty of unlimited services available, but one in particular seemed fresh and new and well, too good to be true basically. What an idiot. At least that's what I told myself initially but then I realised that not all the reviews I'd read of Just Cloud were on what I later found to be affiliate websites. Some were well-known review websites, whose editorial teams had either not used the package in its retail entirety or, well, no I'm not even going to go there.
One site I'm now particularly loathe to even think of is
www.toptenreviews.com
and its seemingly decent roundup of online backup services which included the likes of Dropbox and Carbonite.
Just Cloud came out on top, with the only 'con' being 'The service doesn't provide technical support via telephone.' I can't tell you how wrong that is. By far my main gripe, given how many websites seem to rave about Just Cloud's great value at less than ten bucks a month for unlimited storage and amazing features, is that it's nothing of the sort. At least not if you want all the features and a decent service.
Ten bucks buys you a decrepit, painfully slow and generally poor backup service. But about five minutes of exploring I saw the first pop-up appear saying I could get a faster backup for X amount more cash a year, or add more than one computer to the backup service for, you guessed it, more cash.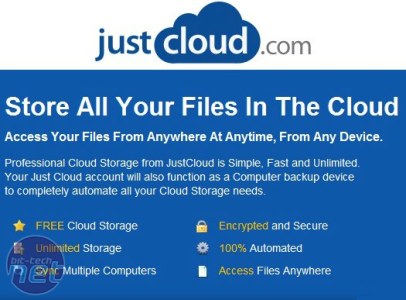 Click to enlarge
This went on and on, until I realised that unless I paid through the nose for numerous extra features, the service was in my view completely and utterly useless, inferior to its competitors and therefore terrible value if you were an idiot and paid for all these unknown extras on top of the usual annual fee. Strangely, nothing is mentioned about this in reviews (nor on Just Cloud's website).
Having hit a brick wall, I then tried to cancel. I spent the next half an hour finding out how on earth to do this and eventually found I had to email them to cancel. This took at least four attempts, each time being met with a generic response about me maybe having trouble and could they assist me.
Somehow they didn't seem to get the message I felt ripped off and wanted my money back. I was then offered six month's free backup credits, whatever they are, before finally being given a URL to a secret-looking website, not accessible from my actual Just Cloud account, where I was finally able to cancel. Of course by this point I could also kiss goodbye to my refund as well as any self-respect.
Rant over. To sum up, beware of Just Cloud and any review or forum user preaching its wonders. Dig hard enough and you'll find hundreds of other unfortunate victims of this terrible and misleading service.
Which online back services do you recommend? Have you ever encountered a service like this? Let us know in the forum.