Thoughts on AMD's new APUs
Posted on 24th Oct 2012 at 07:10 by Antony Leather with 12 comments
I've been a big fan of AMD's recent desktop APUs. While its embedded offerings aren't much to shout about, Socket FM1 was a small triumph for AMD in an otherwise poor showing on the desktop CPU/APU front. I'm not going to mention the 'B' word here, as it's not really relevant but needless to say, it was nice to see an AMD desktop chip actually scoring highly for a change.
What made Llano so good (when the supply shortages were finally under control) is that despite its market being a niche one, it filled this gap and filled it well. X86 performance has been an issue with AMD's chips for a while, and Llano was no exception, with Intel's Pentiums and Core i3s running rings round it in single-threaded applications. However, for a gaming setup for less than £100 including a CPU and GPU, Llano was hard to beat.
Motherboards eventually came down in price with half-decent overclocking models still available for less than £60, meaning £160 is all you needed to spend to get a respectable CPU, GPU and motherboard. I didn't build any budget PCs for friends or family in the last year or so, but if I had done, I'd definitely have considered using a Llano APU.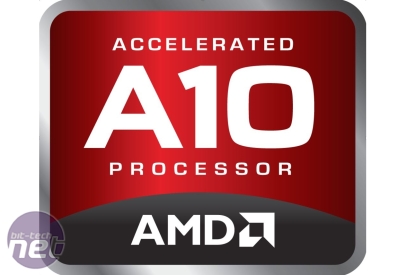 Click to enlarge
Socket FM2, sadly, meant that Socket FM1's roadmap was chopped but as a consolation, AMD has released its latest APUs and promised they'll be supported for two generations. They're also proving themselves to be worthy considerations at the low end and gained ground on Intel's x86 dominance. The
A10-5800K
in particular is considerably faster than any Llano-based APU, yet it still costs around the same £100 mark as the
A8-3870K
.
However, motherboards are very much a mixed bag in terms of price and in some cases, risk damaging AMD's favourable reputation at the low end for gaming performance on a budget. Socket FM2's flagship chipset, A85X, doesn't really offer that much over A75, which has migrated from FM1 to FM2. You get dual eight-lane PCI-E 16x slots (some A75 boards can do CrossFireX but they're limited by one slot only offering four lanes), as well as couple more SATA 6Gbps ports - nothing really to write home about.
Despite this though, many A85X-equipped boards are retailing for well over £100. This might be board partner's ideas of cashing in on some sexy margins, but it's terrible news for AMD. Many Socket FM2 A75 motherboards are available for less than £60 - the sweet spot if you're looking to build a budget gaming system. However, factoring in one of the more expensive A85X boards will mean the CPU/GPU/motherboard combination will cost well over £200.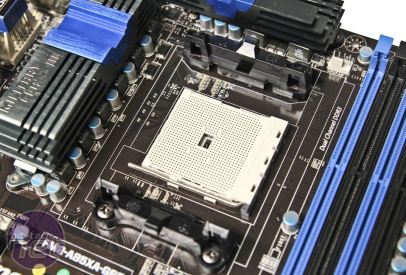 Click to enlarge
Of course the issue here is that AMD is playing with fire by going up against Intel's budget offerings. Not with its in-board graphics mind you, but with discrete graphics cards. A Core i3 combined with something like a Radeon HD 7750 1GB plus a £50 budget LGA1155 motherboard will be significantly faster yet cost about the same.
My concern is that with so much emphasis going on these A85X motherboards, potential punters will be put off by their high prices. They may overlook Socket FM2 entirely when in fact, if you look at the platform at it's strongest - with a £60 A75 motherboard and high-end FM2 APU - it beats anything Intel can throw at it in its price range and is definitely worth buying.
It's a situation that AMD should be careful to manage, given how long and hard it's tried to get something out the door that can compete with the Santa Clara giant. At the moment, the success of Trinity and Socket FM2 could rest in the hands of motherboard manufacturers.
What are your thoughts on AMD's new APUs? Let us know in the forum...