Have expensive heatsinks had their day?
Posted on 29th Jun 2012 at 09:09 by Antony Leather with 55 comments

In the last couple of years, water-cooling has made some serious leaps in usability and value. Sadly we're not referring to custom water-cooling kits here, although the number of off-the-shelf components that are available now if you're building your own system is staggering. No, we're talking about all-in-one liquid coolers such as
Antec's Kühler H2O 920
and
Corsair's H80
.
Even just a few years ago, all-in-one liquid coolers invariably performed worse than decent air coolers. In some cases they were a lot worse and represented very poor value for money and were little more than a quick and easy way of being able to claim your PC was water-cooled. Internal units in particular used lowly pumps and radiators that were skinnier than an anorexic beanpole.
Cool IT led the way with its Eco and
Domino
coolers, along with Asetek, whose efforts were also sold by Corsair in the form of the
H50
and
H70
. All of a sudden, we had affordable units that could be fitted in most cases with rear or roof 120mm fan mounts close to the CPU socket. More importantly, they offered cooling as good, if not better than the preferred air coolers of the time.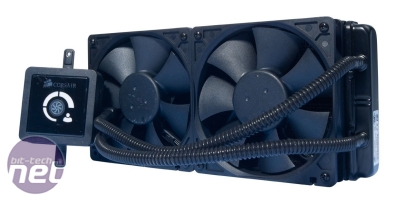 All-in-one liquid coolers such as Corsair's H100 (pictured) and the cheaper H80, don't cost much more than large heatsinks
The latest generation have made even bigger waves. They are now the coolers of choice in mid and high-end PCs – something we've never seen before. Not only this but they're easy to install, have no issues fitting in a vast majority of standard-layout tower cases and out-perform anything that air cooling can throw at them.
Corsair's H100
especially is very quiet too yet despite being the most expensive all-in-one liquid cooler around at the moment. It costs half the price of all the gear you'd need to make a similar custom water-cooling kit.
With air coolers such as
Be Quiet's Dark Rock Pro
and
Prolimatech's Genesis
costing upwards of £55, we're finally able to ask a very interesting question. If you're spending more than £40 on a CPU cooler, is air cooling even worth a look? This question is particularly important when you consider that many cheaper air coolers, in particular
Arctic's Freezer i30
, perform as well as these monstrosities. Smaller coolers and all-in-one liquid coolers are invariably far easier to fit too, so why on earth would you spend more on a large heatsink?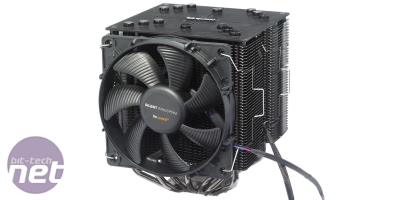 Click to enlarge - Large heatsinks such as Be Quiet's Dark Rock Pro offer great cooling and low noise but they're as expensive as all-in-one liquid coolers that are often just as quiet and offer even better cooling
There are a couple of reasons, but we'd be interested to hear your opinions too. Firstly, there's noise. Smaller air coolers are invariably nosier due to the fact they need more airflow to deal with the same amount of heat. As they're so large, air coolers such as the Be Quiet Dark Rock Pro can afford to use 120mm or even 140mm slow spinning fans but still offer excellent cooling. The Dark Rock Pro is able to match the likes of the Corsair H100 and H80 at similar noise levels in some of our tests, meaning that if your primary objective is noise reduction, it isn't a totally unattractive options as it's still noticeably cheaper than the better all-in-one's.
Secondly, there are cases where the fan mounts are simply too far away from the CPU socket for the tubing to allow you mount the radiator. In this situation, you can either mod the cooler (extending the tubing is actually a fairly popular mod) or of course opt for a decent air cooler if you don't want to splash the cash on a custom water-cooling kit.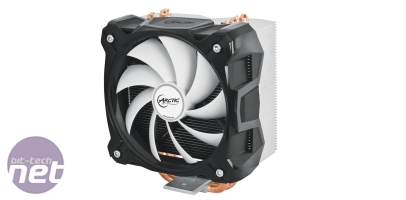 Click to enlarge - The Freezer i30 strikes a good balance between size, cooling and price
However, for the overclocking enthusiast, all-in-one liquid coolers have an additional trick up their sleeve. Corsair's H80 and H100 have three fan speed settings, while Antec's Kühler H2O 920 goes one step further and offers fully-programmable software to fine-tune its fans. For owners of the Be Quiet Dark Rock Pro, you're stuck with silent mode and nothing short of swapping the fans will give you better cooling should you want to an afternoon of overclocking and benchmarking.
In any event, some of us are less phased by the din of noisy fans and would be quite happy to set the H80, for example, to its medium or full speed fan settings. While we haven't got round to testing some of Corsair's cheaper all-in-one offerings, even if they're within 10-20 per cent of the more expensive models cooling-wise, they'd still make tempting alternatives to equivalently-priced air coolers.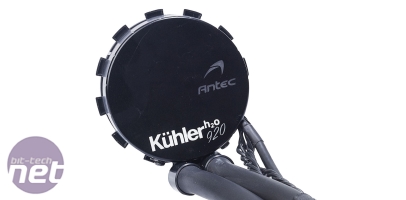 Click to enlarge - Antec's Kühler H2O 920 offers software fan speed control as well as awesome cooling for just £70
It's a tricky one to call, although for the time being, in the sub £40 bracket, its difficult to see anything providing the humble heatsink with much competition for now. We thought SSDs would kill hard disks a long time ago, but their prices prevented this war from kicking off until recently when we finally saw decent 512GB SSDs retail for less than £300. With large air coolers, there will always be people who prefer air cooling too.
However, if and when the likes of Corsair and Antec release their next generation all-in-one coolers, if they're cheaper or better than their predecessors, I'd be very worried if I was in the air cooling market.
Do you think the days of large air coolers are numbered? Let us know in the comments...