Is the Age of Massive PCs at an End?
Posted on 5th Nov 2011 at 12:26 by Antony Leather with 59 comments

In the 15-odd years I've been building my own PCs, all my main systems have invariably been housed in large towers. Whether this was because they needed to accommodate multiple hard disks when I was experimenting with RAID, or to fit water-cooling hardware inside, my cases have got perpetually larger.
It's now got to the point where I own one of the largest PC cases ever made – the Lian Li V2000. I've currently got a quad 120mm-fan radiator and a triple 120mm-fan radiator in a single loop, cooling my BIOS-modded HD 5870 1GB, overclocked Intel Core i7-975 and Gigabyte GA-X58 UD7 with a full-cover waterblock. This enables me to have a near-silent system, as the seven 120mm fans spin at a very low rpm, but still offer enough cooling power to enable sky-high overclocks. However, the case feels like it takes up half of the room.
While my current system is also still part of an on-going
modding project
, I've had a real hankering to do something completely different to the norm – my norm anyway. I want a smaller PC, but not just something half or even a quarter of the size of my giant V2000. I want something that's not much bigger than a shoebox, but still water-cooled and able to pack a powerful punch.
Thankfully, I've already built quite a few mini water-cooled PCs in my time, so I know this won't be an issue. I've also had projects such as
Phinix Nano Tower
for some excellent inspiration, showing what can be achieved with modern hardware. Also, the GTX 560 Ti can be found with trimmed PCBs, so there are also respectable graphics options. The limiting factor has been the motherboard – having built numerous mini-ITX systems in the past, including a couple of water-cooled machines – I really want to see just how small I can make my PC.
This question was answered by the guys at Zotac, who recently released the
Zotac Z68 Mini-ITX WiFi
– the first Z68-based mini-ITX board that can access K-series CPUs' unlocked multipliers.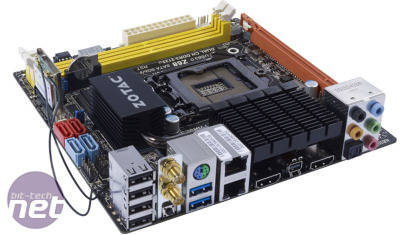 Zotac's Z68 Mini-ITX WiFi can push K-series Sandy Bridge CPUs nearly as far as the best boards we've seen
Combined with an overclocked Core i5-2500K, the system should pack enough punch to deal with the games I throw at it (a bit of Bad Company 2 with a smattering of World of Tanks and some flight sims). What's more, while 8GB kits of memory are available for less than £40, I could also use it to help with the increasing amount of photo editing I do in my spare time.
Half of me thinks I should stick with big towers, though. They allow you the greatest flexibility when it comes to building big, powerful systems with exotic cooling. They also look cool. Maybe my urges are just my way of coming out in sympathy with the world economy – downsizing, shedding extra baggage, becoming more efficient? But seeing as Intel's latest CPUs are so power efficient and don't need oversized cooling systems to achieve large overclocks, I really don't think that a powerful system needs to be big any more.
Are small PCs the future? Should I downsize? Let us know your thoughts in the
forum
.