On Our Desk - Mionix Propus 380
Posted on 17th May 2011 at 08:20 by Paul Goodhead with 13 comments

As you can imagine, we get lots of natty little bits and pieces sent into the
bit-tech
offices. Annoyingly, though, much of it is just a little too small or a little too silly to write about in a full page review. As a result, I'm trying to resurrect the
On Our Desk
series of articles that we used to cover all these little bits of gadgetry.
So without further ado I'll tell you about the
Mionix Propus 380
mouse mat, on which my
CM Storm Inferno
has been happily sitting for the last few days.
The first feature that grabbed me about the Propus 380 is that it looks good. It was actually its unusual shape and sleek, unfussy design that prompted me to pick it out from the pile of gaming mouse mats we've got sitting in the labs in the first place; it certainly looks like it means business.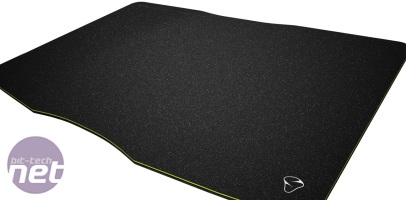 Once out of the packaging, I was pleasantly surprised by the build quality on show. The edges of the Propus 380 are very precisely cut, with no rough edges in sight. The upper tracking surface is also very firmly bonded to the rubber base of the mat; it certainly doesn't feel like the Propus 380 would suffer from the kind of delaminating or edge-peeling you may have seen on older mouse mats.
The surface of the mat is made from extremely fine-grained plastic, results in some very quick mouse movements. In fact, I was actually able to move my mouse almost too quickly compared to the cloth covered mat that the Propus 380 replaced, with very little drag or friction between the mouse and mat. Once I was used to it, though, the lack of friction meant that my mouse movement felt very precise, and that fatigue was less of a problem during long gaming sessions.
Measuring 380 x 260mm, the mat is wider than it is tall, but this means there's plenty of room for large sweeping movements if you run your mouse with low sensitivity. If you don't need all that width, though, then you can rotate the mat through 90 degrees. What's more, in this orientation, the indents in the upper and lower edge of the mat help it to butt up nearly with your keyboard.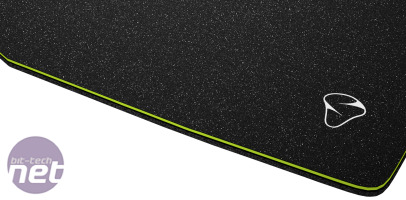 If you're into your LAN gaming, then the fact that the Propus 380 doesn't roll up could be an issue. It does have a degree of bend in it, but it'll crease if you push it too far. For most people, though, this is unlikely to be a problem, and it also means the edges of the mat won't curl with time.
Of course, a gaming orientated mouse mat is a luxury; most decent mice these days will track quite happily without any mouse mat at all. The Propus 380 is a great piece of kit, though. It feels well made, and has a surface that provides very smooth and quick tracking for a laser mouse. At £17 it couldn't be called cheap, but at least you feel like you're getting £17 worth of kit; it'll definitely be staying on my desk for the foreseeable future.