Something special is about to drop through your letter box
Posted on 8th Apr 2011 at 15:18 by James Gorbold with 178 comments
For the last five months the editorial team behind
Custom PC
,
bit-tech
and
bit-gamer
has been busy beavering away into the small hours working on a total redesign of
Custom PC
.
This weekend you'll be able to see the result of all that hard work.
That's because subscribers will receive the first copies of Issue 93, six days before it goes on sale in newsagents and supermarkets across the UK and USA on 14 April.
Issue 93 is so special because it's the first time in over five years that we've given
Custom PC
a total overhaul. As soon as you pick up the new issue you'll notice that it's a different size to the 92 issues preceding it. That's because we know that a significant number of readers like to store back issues, so the new compact form factor will make it easier to archive.
This isn't the only change we've made though; we've also added 16 more pages so that you can read about more hardware, overclocking, modding and gaming in every issue. In the modern world of VAT increases and inflation, you'll also be pleased to hear that you can acquire all this extra valuable editorial content without paying a penny more.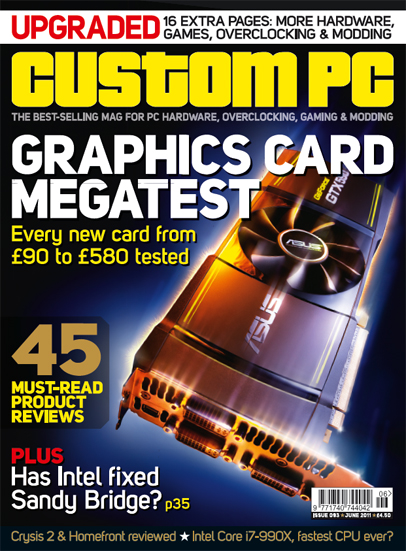 Speaking of content, we've also restructured Custom PC so that you can find related topics more easily. For example, we've created a new gaming section focusing on the best new releases, plus highlights from the gaming community in the shape of the most interesting mods and web games.
We've also created a new modding section, which includes an easy step-by-step guide, and the best in-progress and complete mods by other readers of
Custom PC
and
bit-tech
. If you continue to buy
Custom PC
every month, you'll soon learn all the skills you need to make your own eye-catching modded or scratch-built PC.
Finally, we've taken a long hard look at the Elite section - our shopping guide to the best components that we've reviewed over the last few months. The old cluttered design has been replaced by a sleek new shopping-list-style guide that makes it far easier to decide which components work best together, and which upgrades are the most worthwhile.
Complementing all this brilliant new content is a fresh look for the entire magazine. The intention behind this redesign was to clean up the look and feel of
Custom PC
- the old design was showing its age and the pages were becoming strewn with clutter.
I'm confident that once you've read through, and experienced this new and longer design of
Custom PC
, that you'll agree the new look is considerably more pleasing to the eye. It allows you to more easily find the information you need, whether it's an at-a-glance overview of the product under review, or its key tech specs and scores in our benchmarks. I hope you enjoy reading the new issue as much as we enjoyed crafting it for you.
Let me know what you think in the
Custom PC forum
.