PC Hardware Buyer's Guide, December 2010
Posted on 3rd Dec 2010 at 11:56 by Paul Goodhead with 30 comments

As most of our long-term readers will know, we produce a
PC hardware buyer's guide
each month, detailing our views on what PC components you should be buying and why. It's a great opportunity for us to summarise our findings of the last month and for you guys to tell us that we're wrong.
This month though there are simply so many new releases just out of reach over the upgrade hill that we simply didn't think it was worth doing December buyers guide.
Intel's imminent release of its much hyped
Sandy Bridge
CPUs, for example, means we can't confidently recommend anyone build an LGA1156-based system from scratch. Even our recommended LGA1366 systems, such as our Premium Player, may even be under threat if Sandy Bridge's performance matches up to the buzz being generated.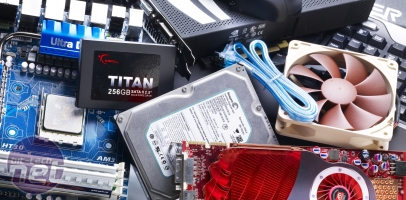 Add to this the fact that it looks like there's a slew of new graphics card releases from both sides of the red/green divide on the horizon, and the waters become even more muddied.
ATI for instance is about to release its Radeon HD 6900-series, which should logically compete directly with the
Nvidia GeForce GTX 580
1.5GB. We also expect new graphics cards from Nvidia sometime soon, as it would be silly not to deploy its
revised Fermi chip
in more GPUs than just the GTX 580.
As a result, we won't be publishing a buyer's guide this month and will instead be dispensing the tried and tested tech world cliché of 'just wait another month' before taking the plunge. There is so much new and exciting kit in the horizon that it would be pointless to recommend you buy anything now, unless you absolutely have to.
We'll be back on track with our buyers guide in January of course, so you should expect a bumper article detailing how we think you should be spending you Christmas windfall.