The Free WiFi Myth
Posted on 16th Jul 2010 at 10:07 by Paul Goodhead with 42 comments

I recently travelled back home to
Burton-on-Trent
to visit my family. Normally i drive but on this occasion I was making the return journey by rail. I wasn't bothered though, I enjoy a nice long train journey and the jazzy Virgin Trains website was proudly boasting about the free WiFi that can be enjoyed on all its trains.
Awesome, I thought. My girlfriend had just recently purchased a tidy little CULV ultra-portable which I'd pinch for the day and use on the train on the way back. This would let me catch up on the day's Formula 1 highlights and maybe play some
Transformice
. I even thought I could take a gander at some tech news and maybe crank out a blog post on something interesting and topical. Go me and my pro-active work ethic.
All looked good when I set up camp in coach C, seat 44, my home for the next hour and a half. Unfortunately however- and some of you may already know where this tale is going - things went downhill from here.
The WiFi is indeed free, but only in the first class coach. For anyone who isn't an MP or an executive with an expense account to burn, it's £4.90 an hour.
Sigh.
I realize I should have perhaps have seen this coming: you rarely get something for nothing these days. I've also now seen that if I'd looked a little closer at the small print on the website then I would have known the restrictions.
The fact is that it's not just Virgin who have a free WiFi service with strings attached. I've been to a number of places that advertise free WiFi that either force you through a clunky extended sign up to a specific service or gateway, or only supply it free to a subset of their customers; a subset I never seem to be a part of.
The internet is a vital commodity and companies or services that make it freely available to their customers are providing them with something genuinely useful. It's something people are coming to expect and to rely upon.
Maybe it's an overly utopian idea on my part of having free internet provided in public spaces - but it's an idea that could see the light of day if
London's plan to install wireless routers in street lamps
comes to fruition. I don't see why it shouldn't, it is after all something that is already in place
in Paris
.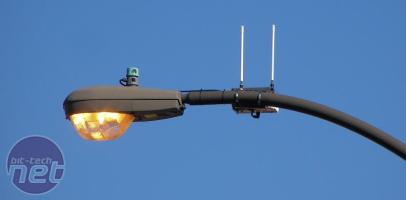 Philadelphia provides free WiFi access in areas of the city via lamppost mounted routers. Click to Enlarge
I'm sure the idea is anathema to the record and music industries, which probably foresee hooded youths standing in gangs on dimly lit street corners downloading the latest blockbusters and N-Dubz albums. Surely though abuse could easily be reduced by limiting users to a fixed download limit or charging over a given threshold. After all, a 50MB limit is more than enough to send an email and check Google Maps a few times.
Some mobile users have a 3G network, but data charges can be excessive if you don't have a data limit built into your plan. The 3G network is also prohibitively expensive for tourists or people coming to the UK for business - and yet the web's resources are often exactly what those people need to help them navigate the city. 3G isn't accessible via most laptops either and reception can be patchy outside of London and other major cities.
I'm sure there are places out there that do do genuinely free WiFi for their customers and bravo to them. There are even excelent websites such as
hotspot-locations.com
that show you where these places are. Unfortunately I think misguided and draconian laws such as the
Digital Economy Bill
are likely to make such places more and more rare.
It seems obvious to me that the next important step for the internet is not to concentrate on speed, but to make it freely available in public spaces as a light use commodity. Unfortunately I think public WiFi is too good a money making opportunity for my hopes ever to be realized.
Do you pay for your WiFi in bars and on trains or have you found a nice sleepy little cafe that genuinely provides free internet? Let us know your thoughts in
the forums
.