Four Men, a Robot and a Volcano
Posted on 6th May 2010 at 13:05 by Antony Leather with 18 comments

As some of you may know, I recently got stuck in Spain when I flew out to Madrid to cover
the Campus Party Europe event
and the volcano erupted in Iceland. What was meant to be a 24 hour trip soon turned into a nightmare, as I'd only packed enough clothes and gear for one day.
This is the story of how I got home. It involves one of the most advanced robots in the world.
One of the reasons I'd packed so lightly was so that, after the late flight home on Thursday night, I could glide through passport control and be on my way home without having to wait for hold luggage. I had a busy weekend planned, with Virgin Media coming round to fix the internet, another event to go to on the Friday afternoon, plus furniture arriving on the Saturday and my Dad's birthday capping it all off. I really needed to get home as soon as possible, in other words.
However, the ash cloud closed UK airspace and before I knew it, I was stranded. At that point I thought it would blow over fairly soon, but by Thursday evening things were getting worse. My attention turned away from the event and to getting home, but with the airline's phone lines jammed it was slow going. I took a cab to the station to see about getting a train to Paris, but that turned out to be a nightmare too as the cab driver didn't speak a word of English and was in a hurry to move on.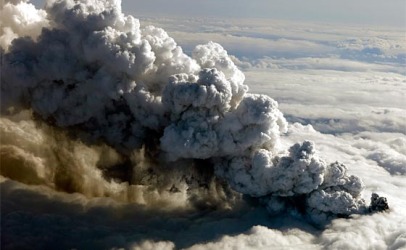 I headed back to the event and soon found that all the ferries and buses leaving Spain were fully booked and Paris and Calais were quickly getting overcrowded. Thankfully, I managed to arrange for an English speaking taxi driver to take me to the station and give me a hand translating the following morning, but that night I found that car hire was out of the question as I didn't have my counterpart licence. Things weren't looking good.
As luck would have it, the following morning I met a group of three guys from a UK company called
Engineered Arts
who make the UK's most advanced android and who were also looking to get home. One of them, company director Will Jackson, decided to come with me to the station too. We tried the trains first but, after queueing for three hours, learned a French rail strike was hampering things (brilliant) and all trains were booked until at least Sunday evening. Luckily, Will had all the relevant documentation on him, so together we looked into renting a car again.
Our first quote was 3000 Euros. We were about to walk out in disgust but the girl at the checkout said if we could drop the car off in Spain and find our own way to the car hire pick up in France, it would only cost 400 Euros. However, with no way to get across the channel we had to go away to think about it.
We returned to the event only to find that, because the entire event was looking at ways to get home, the Brittany Ferries website had banned the IP address. We used a proxy to bypass this and just in time too - despite the website not loading on the first two attempts, Will somehow managed to book the four of us on a ferry from Roscoff in northern France to Plymouth on Monday afternoon. It was now Saturday afternoon - all we had to do was get to Roscoff in 48 hours time.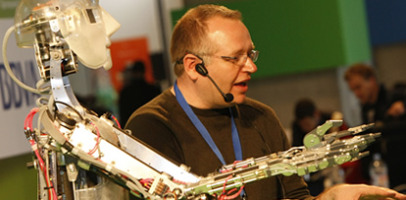 Will Jackson making his presentation with his 'Robothespian' creation
We headed over to another train station using the Metro to see if we could get a train from Leon. However thousands of people had similar ideas, including families with children who looked like they'd not slept in days. We came away empty handed and, to top it all off, the car hire company closed early on Saturdays. Great, another plan scuppered.
That night we set about finding a new way to get to Leon. We hit all the car hire websites we could trying to do the trick of picking one up in Madrid, dropping it off in San Sebastian in northern Spain then picking another up from Biarritz across the border. After an hour we had nothing - but then a breakthrough came! Will managed to book a car from Madrid to San Sebastian leaving the next morning. Then a few minutes later he also managed to do the same from Biarritz to Brest, just a few miles from our ferry crossing.
However, we had no guarantee the cars were actually booked and we had one small item to contend with - a 100KG android which the guys had been presenting at the event and which was broken down into three huge flight cases. Clearly a Renault Clio was out of the question for hauling that around! We headed to the airport via taxi to pick up our first car - a Citroen Picasso which Will assured us would be big enough. When we got there, the company refused to serve us (such was the mayhem) and demanded we went away and emailed our reservation through as proof. Fortunately, after some strong words they accepted our reservation when we gave it to them on disc.
We headed out of Madrid and onto the motorway and, after crossing the Pyrenees, we arrived in Biarritz by lunchtime. We were dreading the reception and had already decided that if they refused us a car we'd just keep the one we had and deal with the fallout later. Thankfully, they had the car waiting for us and what's more even offered to drive our other car back to Spain for us!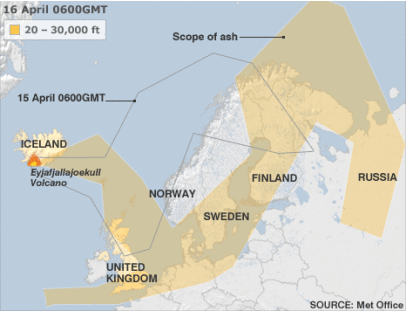 The ash cloud quickly paralysed air travel in western Europe and looked set to stay
We swapped the android over to the new vehicle and headed off. By mid afternoon we were considering places to stay but with Roscoff still a good 800km away, we were keen to press on as far as we could go. We skipped our original sleeping point of La Rochelle and pulled into a hotel in Nantes at about 9pm.
We worked out that we'd need to drive for another 3 hours or so to get to Roscoff but we also still had to find a place to drop our second hire car off. There was an office in Brest, but that wasn't exactly close. We were on the road by about 6am after yet another night of barely 4 hours sleep and, despite it being a working morning, the French motorways were just as quiet as they had been the night before.
We arrived in a fog-covered Roscoff at about 11am and, to our joy, had no problems acquiring our boarding passes. We'd made it! Unfortunately, there was no car hire office for our car so Will headed off to Brest not entirely sure how he'd get back. A few hours later he returned - in what would be our third hire car, this time from Europcar who had an office at the ferry Terminal.
At 8pm that evening we pulled into Plymouth in glorious sunshine and even had a pod of dolphins greet us on the way in. Unfortunately, ITV news picked this time to interview the four of us and I for one looked like I'd just come off the set of a Conan film. I still had a 250 mile journey to London ahead of me, but I'd never been more grateful to be back in the UK. When I got back home I'd travelled nearly 2,000km and not stepped foot on a plane. It was an interesting few days but two things really stuck out - just how fast air travel really is and how much we depend on it, and how quickly the world would decent into chaos if a really big eruption happened. Here's hoping we're not around when it does!