CPUs under the microscope - literally
Posted on 30th Mar 2010 at 10:27 by Alex Watson with 11 comments

What I love most about photography is the way it can show aspects of the world that are invisible to regular human vision - timelapse, x-ray, macro, lenses with a wider angle than the eye - are fascinating.
Tom Royal
, an old colleague of mine, who now works at Computer Active, has found a microscope and taken some great photos of a variety of techy bits and pieces with it.
The images are fascinating and reveal some surprising details - such as the fact the pins of an Athlon CPU are actually made from two different materials, as you can clearly see here: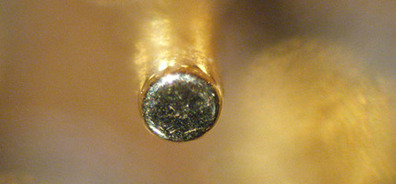 The
full set
is well worth checking out on Flickr, and you can also see how Tom and his colleague Anthony took the pictures with this
annotated image
on Flickr.