Second Hand Hardware
Posted on 5th Mar 2010 at 10:25 by Antony Leather with 32 comments

With relatively high failure rates (I'm sure we've all had plenty of stuff die out of warranty, I know I have) and the rate at which PC technology advances, there's not as much second hand gear out there as there might be compared to other things, like cars or cameras.
However, while I love receiving shiny new kit, I've always been a fan of buying and selling second hand PC hardware so if you've never thought of going to computer fairs or online auction sites for your next upgrades here's a few reasons why it's worth it and also what to watch out for.
Unfortunately there seems to be a large number of people out there that think everything on sites like eBay is cheaper than it is in the shops. As such you'll get people paying over the odds when a five second search on Google could show up several e-tailers selling it for less. I've also sold a few bits for a lot more than I bought them for too.
This means that many auction sites are now very much a seller's market, so if you have second hand gear that's gathering dust, consider setting up an auction or using
bit-tech's
own
marketplace
. It's surprising what people will pay money for and you could get a nice little addition towards that new shiny upgrade.
It's still possible to pick up a steal though. Cases are an ideal candidate for second hand bargain hunting for a simple reason - there's not a lot to go wrong with them. If you're planning to paint it then this is even better as scratches and dings can be filled, smoothed and painted over.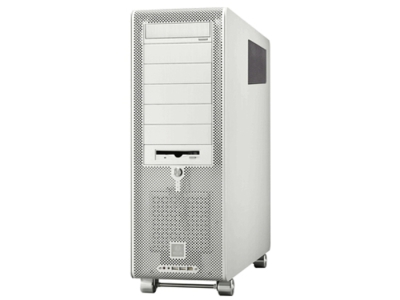 Buying second hand cases is usually a safe bet
It's also possible to buy spare parts if anything is missing. Lian Li is great for this and a case in point is my very own V2000, which I bought last year for £60. Not bad for a case that retailed for £230 at the time and was just bit dusty and just "missing a few screws" - which I picked up from
www.kustompcs.co.uk
for about £10.
As soon as you delve into the world of RAM, CPUs and hard drives though, things become a bit risky. In many cases these bits of hardware won't come with a warranty. As such, it becomes a case of "
Can I afford it if it breaks a few months down the line?
". Bear in mind though that many sellers will offer some kind of warranty or even offer to ship the hardware with the original receipt if you request it. The second hand market for core hardware is pretty healthy though and as such, bargains are a rarity.
Buying from abroad using exchange rates in your favour can work on occasions. I bought a Athlon 64 X2 FX-60 from an American eBay seller in an attempt to prolong the life of my ageing Socket 939 system a few years ago. I managed to pick it up for £190 including postage - less than half the price it was retailing for at the time. However I was lucky in that, because it was an auction and second hand goods, I didn't get stung for the VAT and import taxes which can make this method pointless a lot of a time.
Then there's the dead on arrival issue. What do you do if you buy something from an online auction site and it turns up dead as a doornail? Well the obvious thing here is to have checked the seller's policy on returns and make sure they accept them. There are also plenty of sellers out there selling hardware listed as 'untested and no returns'. Stay away from these and make sure the seller accepts returns.
So what's your experience with buying your hardware second hand? Do you always prefer to have a warranty on your core hardware, or do you live for auction sites like eBay? Let us know in
the comments
.