What will you put up with for a good storyline?
Posted on 28th Jan 2010 at 11:57 by Mark Mackay with 33 comments

After finishing my new gaming rig recently, I installed a few games that I've been meaning to get through.
Mass Effect
and
Fallout 3
were amongst those titles. I'd dabbled in both before but found that the slow pace and masses of dialogue weren't really what I was looking for at that time. This is a pair of games that focus heavily on storyline. However, I always had the nagging feeling that I was missing out on some great games and so, with my new rig purring away, wanted to give them another shot.
I started with
Fallout 3
. The prologue section in Vault 101 was pretty slow going, but I knew the story was being set so I sat patiently through it, relishing the prospect of getting stuck into the post-apocalyptic exploration outside. When I eventually got outside, I was awestruck by how good the game looked. I've benchmarked a section of the game many times before but with all the settings maxed out, 8x AA,15x AF, at 1,920 x 1,200 and with the time to really absorb it all, the game looked amazing.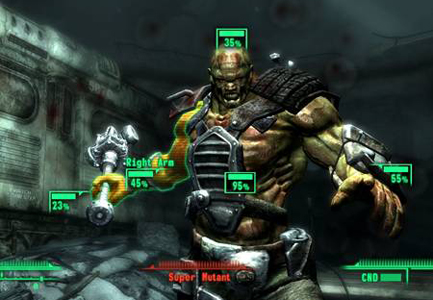 Welcome to VATS - No skills required
After exploring some, I eventually encountered my first combat situation and was introduced to VATS. Quite frankly, I found the idea of clicking where I wanted my bullets to land and then having the shots executed for me a ridiculous one. So I opted for regular FPS-style combat. However, the mouse pointer feels laggy and delayed. I tried with various mice with a myriad of settings, but using the crosshair just felt sloppy. Coupled with the low skill points in all areas as a new character and the combat in
Fallout 3
was terrible. The character development was deep and I'm assured that the storyline is awesome, but with combat soggier than a Weetabix that's been left in warm milk for a week, I just couldn't stomach it.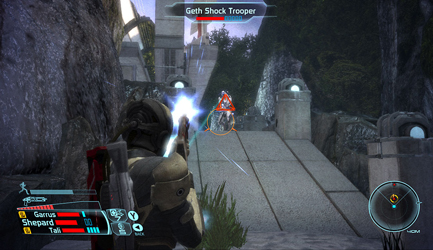 The combat in Mass Effect didn't push my buttons
The same was true of
Mass Effect
. I found the combat severely tiresome, with the team AI making for another sloppy combat system. I've always been into RPGs as my main game choice but I guess as the years have gone by and multiplayer gaming takes up increasing portions of my time - that's changed. I'm going to give
Mass Effect
another shot as
Mass Effect 2
looks amazing and I don't want to miss out on what could be one of the greatest gaming trilogies of all time. But by gum, I hope things pick up as I get into it.
But this all got me wondering. What's more important to you? Did you also find
Mass Effect
and
Fallout 3
tiresome and feel like gameplay was thrown in as an afterthought to the storyline? Are you prepared to stomach a portion of bad gameplay if it means that you can get involved in a well-written, interactive book with some gorgeous visuals or would you can the game and fire up something else that delivered a more immediately gratifying gameplay experience?