Asus Xtreme: Global Summit – highlights from the fourth round of blogs
Posted on 14th Dec 2009 at 14:24 by Ben Hardwidge with 41 comments

We've now reached the end of the PC hobbyist's adventure that was the Asus Xtreme General Summit. Hardware has been tweaked, blogs have been scribed and cake has been eaten, but what did you guys get out of the whole experience? For the fourth and final round of AX:GS blogs, we asked those who attended the event to tell us what they'd taken away from the event, and we're not just talking about the phenomenally sized bag of silicon swag that was handed out at the end.
How did it feel to peer into the workings of one of the world's most successful PC component manufacturers, and did meeting the Asus engineers give you a new appreciation of what goes into component design? There's a wide variety of answers, and a lot of you seem to have learned a great deal from the experience. We've posted the highlights from the fourth round of blogs below, and we'll soon be able to tell you who has won the trip to Taiwan, as well as the final details, as well.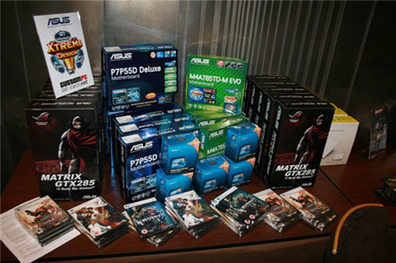 We asked what you'd taken away from the event, and we weren't just talking about the stack of loot that was given away at the end.
The perils of motherboard design
One of the biggest surprises to you guys seems to be the sheer amount of hard work and effort that goes into designing an enthusiast motherboard. As
Yakyb
says,
"The work going into an enthusiast's motherboard is quite a lot greater than I initially anticipated."
He also adds that he originally just thought that
"the boards where designed strictly to spec and that the contributing pieces of the board where placed in where they fell."
However, after chatting with the Asus reps, he now knows that they
"work very hard on getting the layout of the board spot on for us. From toying with the ATX power cable, to the adjustment of the SATA connectors' positioning, the number of man hours that goes into creating an enthusiast board is phenomenal."
Similarly,
genetix
concurs, pointing out that
"designing a motherboard is much more complicated than it looks like at first: technological choices and compromises need to be made, considering a vast number of factors: the cost, of course, but also the user-friendliness, and whether the solution is robust in the sense that it won't degrade performance or perform poorly or worse over time."
The presentation from Asus about designing a motherboard, as well as the one-to-one chats you had with the engineers afterwards, seems to have been a really educational experience, particularly with regards to seeing what the design process really involves.
Bradders125
sums this up perfectly, saying that he
"left the event with a greater understanding of what the designers of the products actually do. Normally you don't think about the amount of thought that goes into designing a motherboard, but after spending quite a few minutes listening to the Asus guys telling us about the reason the ATX power connector is never at right angles, or connected to the board by cables, you realise that they obviously do think about the design."
Back in the good old days
Of course, PC enthusiasm wasn't always the user-friendly pastime that it is today, and it's easy for the crustier enthusiasts among us to forget that younger overclockers never had the pleasure of overclocking via motherboard jumpers or home-made electrical connections. Again, this is an area that Asus touched on in its presentation, showing how far overclocking has come over the last few years, and how this has changed the process of motherboard design.
This revelation appears to have stunned a few of you, including
flibblesan
, who says that
"one thing I am pretty amazed by is how far overclocking has come. It's no longer a black magic art which can only be performed by dedicated people with multi-meters and soldering irons. Now it's so easy to overclock, using simple-yet-powerful tools, and it's now firmly in the realm of the casual user."
In fact,
Skiddywinks
says that he
" can't imagine what it must have been like,"
in the days
"when overclocking involved shorting pins and messing with jumpers."
Meanwhile, blogging latecomer
Rocket_Knight64
points out that the PC industry could be very different today if user-friendly overclocking hadn't been developed.
"Imagine what it would be like if you still had to overclock your shiny new i7 by fiddling with banks of jumpers, a multimeter and a pencil,"
he says, before asking:
"would you even bother?"
It's not just overclocking that's been improved with new motherboards, though. The chance to have a look at some older motherboards also showed up some other areas in which motherboard design has been enhanced. For example,
genetix
says that
"motherboards have gotten better looking with each new generation: gone are the green varnish or 'baby poo brown' PCBs and the ugly bland aluminium heatsinks of yore. Today's motherboards are all about colour coordination and good-looking heat pipes and coolers."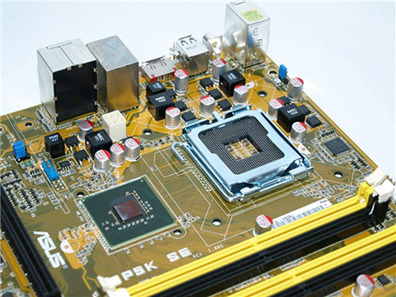 As genetix points out, motherboards now look much better than their green, yellow and brown predecessors.
He also points out that we now also have features such as LEDs, and on-board Power, Reset and Clear CMOS buttons too.
"The ease of use, when building and booting a custom PC, is much better today,"
says genetix.
"Now nearly all components work out-of-the-box with each other, and drivers are automatically downloaded (most of the time). All of this has been facilitated by hardware makers like Asus, whose innovation and strides for progress and more features have helped enthusiasts a lot."
These Asus guys really know their stuff
We're not just talking about innovation and progress, though. A fair few of you were also bowled over by the fact that the guys from Asus really know their onions when it comes to overclocking. Not only that, but they're also just as genuinely keen on PCs and overclocking as you guys.
Skiddywinks
, for example, says that
"the engineers that did the presentation very much gave off the impression that they treated enthusiast hardware as a hobby and passion, as well as a career. At heart, they are just like you or me, so their ideas are very much in line with what the consumer wants. Not only that, but really listening to the people that keep them in business allows them to look at things in a different way."
Meanwhile,
skunkmunkey
says that he never knew that Asus had its own in-house overclockers.
"I'd assumed all the OC testing was done out of house by reviewers, and those lucky enough to receive engineering samples,"
he says, before adding:
"Did I mention I'm available should any jobs arise?"
The idea of a career in motherboard testing also appeals to
Omnituens
, but only for companies looking for someone to break their kit.
"It [the event] has opened my eyes to a possible new career too - BIOS testing,"
he says.
"It appears I have a knack for breaking things, and this extends to BIOSes too - I managed to make an option completely disappear. I don't think the Asus engineers were too impressed, though; it didn't make any sense to them. I found it hilarious, though. Who needs HyperThreading anyway?"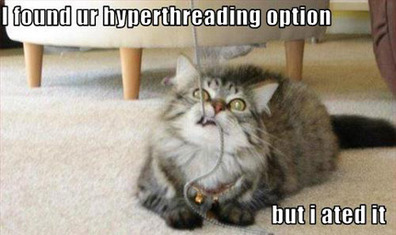 Managed to lose an option in the BIOS menu? A career as a BIOS tester could beckon.
Would you buy Asus now?
Getting an insight into Asus' design processes, as well as meeting the guys behind your components, has also made some of you less cynical about buying Asus products again. Before the event, some of you said that you thought Asus products were too expensive for what was on offer, but now some of you think that the extra cost could be reasonable for what you get.
"I suppose I had better be honest here; prior to this event I had only ever owned one Asus component,"
admits
Yakyb
, adding that
"this is primarily due to the fact that, in general, their prices are slightly higher than the competition."
However, after meeting Asus at the event, he now says that
"perhaps the prices are justified."
He explains that after
"speaking to the Asus reps, it's clear to see that they have a clear and unarguable passion for their jobs. This is fantastic to see, as we also have a tremendous passion for what we do. This experience has taught me that if the product offers the features I require at the time, I will consider Asus first before thinking about other brands."
Along the same lines,
malaroo978
says he now regrets buying a competitor's motherboard rather than an Asus model, simply because it was cheaper.
"Given the choice I would have always gone with Asus, as I have done in the past"
he says.
"The features are second to none and the speed has always been top notch"
Criticisms of Asus
Not everyone was full of praise for Asus, though, and some of you feel that there is still plenty of room for improvement. One good example is
Robbie
, who says that he
"got a strong vibe from there engineers that they wanted to be the first choice for overclockers, and I believe they are almost there; there are just a few issues. First is Asus' unwillingness to remove legacy features such as floppy and IDE support; second is their poor website and driver support and third is the bizarre warranty system which makes getting a replacement very slow and laborious."
Blogging is fun
Aside from the free kit, delicious cake and the chance to hobnob with Asus' engineers, another surprisingly popular part of the experience was the blogging itself. Many of you said you were surprised to find that you actually really enjoyed putting your thoughts down in writing, including
Omnituens
, who says
"I've also discovered that I really like writing blogs. TBH, even if only Baz subjects himself to actually reading the content of these things, I know my work here was not pointless."
Likewise, the ability to write in an interesting fashion has also taken some of you by surprise.
"I also realised I can write,"
says
skunkmunkey
,
"okay, I'm no Dean Koontz, but I can at least write in a semi-coherent manner, albeit with bad spelling."
With similar self-deprecation,
malaroo978
also says that
"'I know I'm not talented in the literal department, but I feel I have written exactly as I feel."
, while also providing
"genuine thoughts for Asus to digest."
.
Again! Again!
We have to say that the feedback about the whole AX:GS experience has been overwhelmingly positive, apart from a few gripes about the teething problems getting the blogs up and running. We're really pleased that you guys had such a great time, and that you've also learned a lot from the experience. So, after this experience, would you be up for attending an event such as this again?
The answer is a definite yes from some of you.
"Why not make this a regular thing?"
asks
skunkmunkey
. He says that he'd even
"pay for such a thing; a weekend full of gaming, and discussing hardware and ideas with people who can make them a reality."
However, he adds the disclaimer that
"of course, there would have to be beer and cheesecake."
That said, one complaint that reoccurred in a few people's blogs was the gaming portion of the event. After all, different gamers specialise in different games, and the inclusion of racing games, as well as Xbox 360 games, has prompted a few objections.
Inferno
was particularly vocal about this, saying that
"the worst point of the event, which was the only thing I would ask them to change, is the gaming competition."
He explains that
"while a lot of the people who go may be Xbox gamers, I am not; I only play games on the PC. There is a reason for this (they're better)."
Inferno adds that his inexperience with the Xbox 360 resulted in him getting a low score in the game, and says
" I didn't really find this fair."
He explains that
"It's PC enthusiast hardware you are giving away, and are interested in promoting, yet you ask us to play on an Xbox."
As an alternative, he suggests including a game that everyone can play, such as Peggle, allowing for the fact that not every gamer is a competitive Call of Duty player or an Xbox gamer.
"Everyone can do it, it doesn't evolve a controller and, most importantly of all, it runs on PC,"
he says.
That said,
Rocket_Knight64
says that the gaming part of the event has prompted him to get into more racing games.
"'I've also learned that I need to play more racing games that don't involve mushrooms, blue shells or laser packing jet cars,"
he says, adding that
"they are not all bad."
The winner
After reading through all of this week's blogs, we've decided that
Skiddywinks
is this week's winner, with his in-depth blog that not only discusses what he learned from the event, but also features plenty of predictions for the PC industry in the future, and examines how the changes will apply to Asus. It's too long to sum up everything in the blog here, but it's well worth a read and we'll soon be posting it up in the
bit-tech
blogs section.