WIN: Asus Xtreme Design VGA Competition Week 1
Posted on 4th Dec 2009 at 15:46 by Alex Watson with 2 comments

It's said that if good design is obvious, then great design is transparent. Perhaps this is why badly designed PC products are so frustrating – when designers get it right, design takes a back seat and you can easily enjoy the performance and features you bought the product for.
That said, given that so many PC components these days are commodity products with razor-thin margins that win favour by simply being the cheapest, you do have to wonder whether there's room for anything as graceful and quiet as good design. Props to Asus then as they're expanding their Xtreme Design approach from motherboards (which we've covered in depth previously), to graphics cards. It's not just high-end graphics cards either – the Xtreme Design range covers, for instance, the newly launched GeForce GTS 240. Co-incidentally, we've got five Xtreme Design Asus ENGT240/DI/512MD5 cards to give away. Stay tuned for an update next week where we'll tell you exactly how to enter,
So what does Xtreme Design for graphics cards entail? According to Asus '
it's about producing innovative graphics cards for the best performance, reliability and safety.
' Fine and dandy, but what specifically does this X-toting name endow a graphics card with?
Click through to find out.
Asus sent us some details about the cards, and while EMI shielding and over-current protection are worthy-but-dry inclusions, a couple of the tweaks struck us as far more noteworthy:
First up, the cards' dustproof fan. We're big fans of cases with pre-fitted dust-filters because it makes a huge difference, but even with them fitted, PCs get dusty, and this muck and grime can reduce airflow, impact cooling and result in a louder running machine. This is especially the case if, like the machines many enthusiasts use, they're well ventilated for better cooling and left running for long periods at a time. As you can see from the image, just small tweak to the design of the inside of the fan can make a big difference.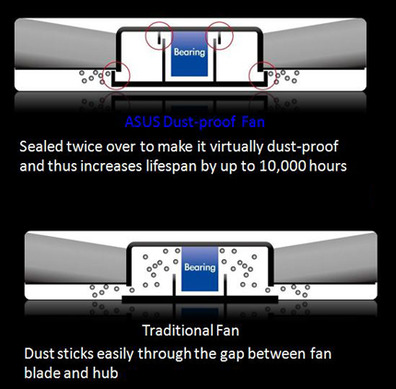 Secondly, the Xtreme Design cards feature something Asus calls '
GPU Guard
.'
As graphics cards get bulkier and heavier, their own weight becomes more of a problem, with the PCB coming under strain. According to Asus:
"
The technology of Ball Grid Array (BGA) with special glue technology is originally utilized on military-class products and is recently phased in to mobile phone and laptop products. ASUS is the world's first to adopt this technology on graphics cards, and this GPU Guard... [helps to] prevent cracks which are caused by strain.
"
As well as these tweaks to the design of the PCB, Xtreme Design series cards also come with Asus' rather nifty SmartDoctor overclocking software, which we're big fans of. We'll take a look at how it works in a future blog post, and we'll also be giving you the chance to put your questions to the Asus Xtreme Design VGA R&D team, so get your thinking caps on as this will be the ideal way to have any questions or ideas you have about any aspect of graphics card design answered.
Any ideas you do have about design should also come in very handy for the competition, too. Stay tuned for that, and of course, for the conclusion of the original AXGS competition - we're hoping to have news on that soon...