Zune HD versus iPod Touch: Round 2, Video
Posted on 23rd Nov 2009 at 10:28 by Richard Swinburne with 14 comments

In the previous round of this face off between the Microsoft Zune HD and Apple iPod Touch, I concentrated on
the music end of things
. This time round I'll go into the video playback.
Firstly, the iPod Touch: media playback is pretty good with the nice sized screen suitable for both 4:3 and 16:9 content, although there's very little media support (basically just MP4) and you can't get subtitles unless you buy through the Apple store - something I flat out refuse to do because of DRM.
Comparatively, the Zune HD screen feels notably smaller, to the point where anything that isn't using the whole (very) widescreen format is almost squint-worthy. In that regard the iPod offers a better viewing experience unless you only watch widescreen videos.
Media support for the Zune is also very limited, but it accepts WMV as well as MP4, though most converters prefer the H.264 for MP4. Again, this means the ever popular MKV format is neglected on both parts - however the Zune will happily accept a full fat 720p MP4 and downscale it into its own native format - that's pretty neat! Although, a waste of storage if you're going to convert it from DVD/MKV/AVI anyway.
The colour and black level quality of the ZuneHD is phenomenal compared to the iPod Touch. The colours are extremely vibrant and the blacks are
actually
black thanks to the OLED screen. The downside is the glossy screen; I've found using it under strip lights or in daylight makes it very difficult to see anything at all. That's still the case with the iPod to some degree, but it's not as bad.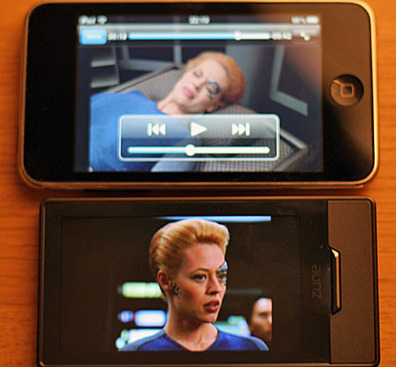 The other advantage of the Zune HD is that it can use one of the key Nvidia Tegra features: 720p output. That doesn't mean the Zune HD has a mini-HDMI jack built in though, unfortunately, so to output HDMI it requires an expensive adapter kit. Since we're not alien to hefty costs of adapters and whatnot from Apple, it's hardly surprising Microsoft has jumped on the bandwagon too, and if you do travel a lot it means there's always your own movies and TV to watch on the hotel TVs.
On the interface side the Zune needs work though. Not only does the iPod clearly list how long is left to play, it can also be flipped to either side and shows what has and hasn't been played in a playlist. The Zune does none of this.
The Zune does allow 30 second skipping though, which is a godsend because trying to move the slider along on either the iPod or Zune is never that accurate. The iPod is still limited to skipping chapters only, which is as good as useless.
Verdict:
On paper the Zune comes out on top because of the better feature set, however personally I just find it too small to watch most stuff comfortably, especially when I try to oggle Jeri Ryan. This round goes to Apple.