Asus Xtreme: Global Summit – highlights from the second round of blogs
Posted on 13th Nov 2009 at 17:44 by Ben Hardwidge with 12 comments

With the prospect of getting your mitts on announced chipsets and top-end hardware, not to mention a booty bag of free hardware, you might think that the hardware at the AX:GS event would be the main subject of all the attendees' blogs, but this isn't the case. Although a lot of the AX:GS bloggers did indeed write about the overclocking gadgetry on show at the event, it seems that most of you were also overwhelmed by the exclusive choice of venue.
Skiddywinks
, for example, describes the daunting demeanour of the Raddison Edwardian Bloomsbury hotel in his blog.
"It was intimidating,"
he says, adding that
"I felt like such a peasant. Me and my jeans, t-shirt and years-old biking backpack. The people entering there were wearing suits and carrying briefcases. They looked important."
Food for thought
However, once everyone had become accustomed to their genteel surroundings, the next hot topic was the food. With the notable exception of
genetix
, whose refined French palate resulted in him describing the hotel's food as
"average"
, most of the AX:GS bloggers appear to have been blown away by the gastronomic spread we laid on.
Skiddywinks seeped particularly surprised by this, saying that he
"was expecting some sarnies and a brew!"
, but was impressed to find out that he was getting the full hotel treatment:
"Score! I helped myself to smoked salmon and some chicken, with roast potatoes and some other sides. It was good. Fresh orange juice as well."
If you want a closer, detailed look at the AX:GS provisions, then you don't need to look any further than
Inferno's blog
, which features no fewer than four photos of the various courses. Although wuyanxu and genetix lamented the inadequate supply of cheesecake (always a
bit-tech
favourite), the cake that came with dinner appears to have been a winner. In fact, Omnituens even concluded his
second blog
about the event by simply saying:
"There was also cake. No lie."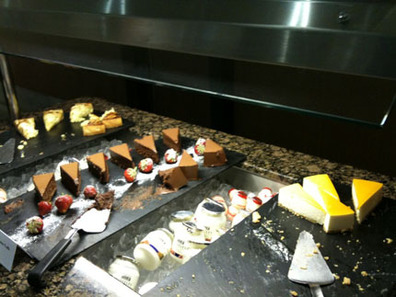 There was also cake. No lie.
Feeling flush
It wasn't just the hotel's culinary talents that had the wow factor either. The toilets also appear to have made an indelible impression on some of you. Take,
skunkmunkey
, for example, who claims that
"the word toilet does them no justice"
, and admits that
"upon first inspection of the toilets, I was pretty sure I was in the wrong place. It had towels, and not the green paper type either."
Similarly, last week's winner
Andrew Moore
loved the toilets so much he apparently spent 15 minutes in there on a break from the overclocking action.
"I have never seen loos like it in my life!
" says Andrew.
"No hand dryers or nasty blue industrial roll here, no lime soap hanging off of the wall with a mess under it... we're talking proper soap and proper towels! Each towel was rolled up into a small cylinder and stacked with many others just like it. All you do is wash your hands and use the towel ONCE and throw it in the wash box."
The right-angled power connector
Thankfully, the hotel's facilities didn't knock everyone into an unconscious daze, and a lot of you were particularly interested in Asus' presentation at the beginning of the event. One subject that popped up repeatedly was the right-angled ATX power connector, which was originally
suggested by Andrew Moore back in August
. The fact that Asus listened to your feedback and gave a reason why this connector wouldn't be practical appears to have impressed some of you.
As
skunkmunkey
points out
"most enthusiasts assume (myself included) that these big tech companies simply do not listen to the consumers. However with Asus this is simply not true. The impressive amount of effort and thought put into something as simple as an ATX power connector is something I had simply not expected at all."
The principle is explained by
capnPedro
, who points out that
"it's a big connector that requires a fair amount of force to lock it all the way in, and pushing it in at a fiddly angle could cause it to snap off the board."
As well as this, capnPedro also manages to beat Andrew Moore's toilet story to the award for too much information by likening the right-angled power connector to something you might see in a porn movie.
"It sounds like a good idea until you try it for yourself,"
he adds.
Meanwhile,
Bradders125
adds that
"the force used to insert and remove connectors could cause it to loosen from its soldered joints."
Bradders125 also put up a great group photo of everyone who attended the event, which we've put below.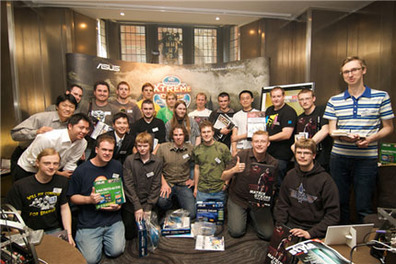 Likewise,
Omnituens
points out that it's
"difficult to change the PSU and increases the size of the case needed to contain the board,"
if you has a right-angled power connector. Omnituens also posted photos of a number of the slides from the presentation, including one with details on how to overclock the new Core i5 CPU. We were also pleased to see that a few of Omnituens' pics came complete with snarky captions about his gaming buddy Inferno, who was also at the event, such as
"P55 layout, simplified so even Inferno can understand it."
Asus outlines a few tips for overclocking the P55 chipset.
Eee up, lad
One area that didn't get struck by the sarcastic tongue of Omnituens was Asus' RoG Connect feature, which enables you to access the motherboard's inner workings from a remote machine, such as an Eee PC. Omnituens explains that Asus had an Eee PC
"loaded with OC software that allowed you to hook it up via USB to the machine you want to melt overclock. The USB cable was attached to a special port on the motherboard, and allowed control of QPI frequency and core voltages, among others, all in real time. Very useful bit of kit!"
He's also posted some photos of the system being used for remote BIOS flashing and remote-controlled tweaking.
Not everyone was convinced by this feature, though.
"It sounds pretty good, right?"
asks
capnPedro
, but he also notes that there's a downside.
"You have to have a special motherboard, the software and a laptop. Unfortunately for yours truly, I currently have none of these things."
That said, capnPedro enjoyed using the RoG Connect kit at the event, but he still wonders whether it's a
"killer feature"
. After all, RoG Connect might be a great feature to show off at an overclocking event, but capnPedro asks
"Is it worth the extra cost and development time? In my opinion, it's a fancy extra, but one I could live without."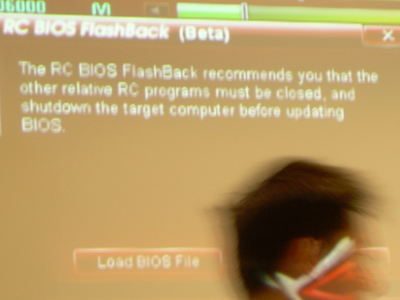 RoG Connect enables you to flash your BISO remotely.
While we're on the subject of overclocking, it's good to know that you all enjoyed the overclocking competition, despite some of your worries. For example,
malaroo978
admitted that he hadn't overclocked for years and was worried that he
"would have to blag it with the little knowledge I had, especially about Intel processors!"
However, after being given the overclocking guidelines, as well as Asus' user-friendly overclocking software, he says that the process wasn't that tough in the end.
"Hats off to Asus and Intel for this,"
, he says.
"Asus for the amazing interfaces in the BIOS and Windows, and Intel for a rugged chip. We managed to post a respectable score in the Custom PC benchmark with Hyper-Threading on and running at 4.2GHz."
It looks like a bit of
bit-tech
camaraderie also helped to make everyone feel comfortable at the event, along with the good food. For example,
flibblesan
says that he was a little nervous at first, and asked:
"Would other people think I'm a n00b?"
Thankfully, they didn't, and he says that
"when I sat to eat lunch I met a group of really nice people who shared the same interests that I did. Suddenly I felt like I belonged. These people enjoyed computing, tinkering with hardware and gaming. My kind of people! It was a pretty good feeling!"
Sabre-toothed motherboard
Finally, one piece of hardware that caught the eye of many of you is the Sabretooth 55i motherboard.
Skiddywinks
has a list of some of the main features, which include a ceramic heatsink, a side-mounted memory cooler and hardcore, military-standard MOSFETs.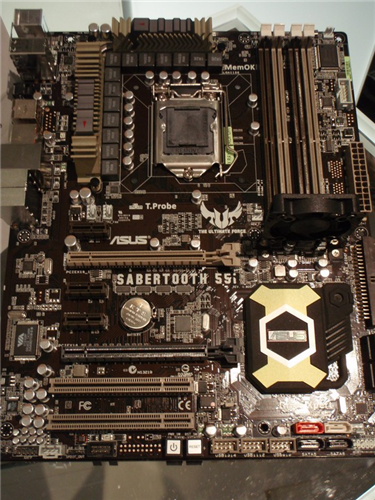 The Asus Sabretooth 55i motherboard ditches the Marine Cool's SODIMM slots in favour of full-size DIMM slots.
Another blogger,
genetix
, had a chat with one of the Asus engineers about it. He explains that the board is a "
slightly less good-looking commercial (but still a killer; the heatsinks are slightly less sci-fi looking) version of Marine Cool, which was a prototype using ceramic heatsinks and other unique features."[i]

He also points out that, unlike the Marine Cool, [i]"there is no onboard UPS on the Sabertooth, as it's not useful and the battery would not last for long."
As well as this, genetix is glad that Asus has dropped the Marine Cool's SODIMM sockets, and also adds that
"I like the RAM fan near the slots; nice feature. I just hope it doesn't emit a painful whine."
Again, though, the Sabretooth wasn't for everyone's tastes.
Robbie
thinks that
"It looks kinda ugly, and while Asus should be praised for trying something new, I feel this concept has little place in the market. People who want to overclock will avoid it, and people who have a tight, hot chassis generally don't buy expensive hardware. Unless this board is used by OEMs, I do not see it doing well."
The winner
As with last week's blogs, picking a winner was a tough job this time around. There was a good variety of subjects covered, and some entertaining writing to be had too. However, for providing a consistently entertaining and well-written read, as well as a detailed description of the hotel and the event and plenty of photos, including a great one of Harry living it up in his own crazy way, we've decided that
Skiddywinks
is this week's winner. We'll be posting his blog up in the
bit-tech
blogs section soon.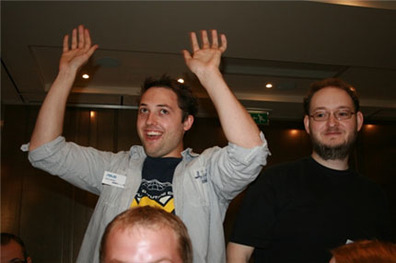 Few bit-tech articles feel complete without a picture of Harry.