AX:GS - Asus reinvents the GTX 285 - enter the Matrix!
Posted on 10th Nov 2009 at 15:06 by Ben Hardwidge with 9 comments

Here's your chance to scoop up your very own 15 minutes of fame, stardom and maybe even a bit of geek-envy from your peers while you're basking in the spotlight.
If you were one of the lucky prize-winners that attended the
Asus Xtreme Global Summit
earlier this year, then you'll currently be hard at work hammering out two
blogs
every week about the event and your new hardware. We're currently reading through last week's blog entries, and we'll be posting the highlights soon, along with the posting guidelines for this week's blogs.
Anyway, as we promised, each week we'll post our favourite blog of the week in the
bit-tech
Blogs section, so without further ado, here's
Andrew Moore's winning blog
from the first week:
Asus reinvents the GTX 285. Enter the Matrix!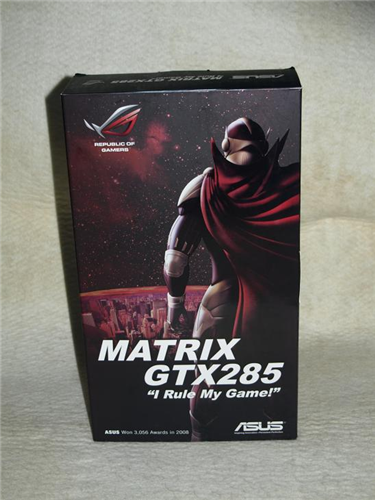 Hi! I'm Andy, also known as andrew8200m on the
bit-tech
community forums. During the blistering heat that we British rarely get to experience in late August 2009, I attended the Asus Xtreme Global Summit in our country's capital city, London, along with 18 other lucky readers who were as fortunate as me to win the opportunity to attend. Unfortunately, there was one chap that missed out due to an unfortunate event, but I believe the fine chaps at
bit-tech
managed to ship over the goodies that he would otherwise have taken from the event, so a big thumbs up to those guys!
Anyway, in the first of my many blog entries to come, I'm going to talk about Asus' attempt at reinventing what was (at the time) the fastest single GPU in existence – the GeForce GTX 285. This was my chosen prize from the event, and I can tell you now that I sure am glad I picked it up; it's an absolute beast!
Arriving home later that same evening, I set about examining my brilliant new toy. From the word go, I could tell that I was in for a treat as the card's packaging was exceptional. The box's design was very well thought-out, and it screamed
"exclusive"
. It's very rare that you get such attention to detail with any product's packaging, so this was a very nice surprise.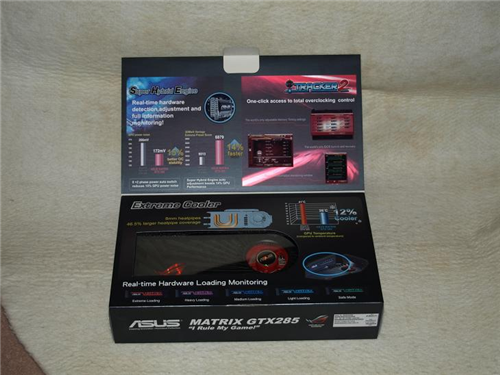 Inside the box I found the usual driver CDs and manuals, with all the accessories you could want. However, there was one accessory that caught my eye - a CD wallet! A deep mahogany leather wallet to collect and store all of those valuable media discs on which you rely on a day to day basis with your PC. Branded with an Asus logo and surrounded by delicate beige stitching, I was in awe!
Fabulous, I thought, without realising how camp this wallet really looked until a good friend pointed it out to me. I soon retired it to the filing cabinet to avoid any further embarrassment from any other friends that may feel the need to take the proverbial! Between you and me, it's actually hidden in a drawer as it really is too good to just throw away. That's a big plus, Asus, as I feel you've out done yourself with the extras here.
I must say that the graphics card is absolutely beautiful. The attention to detail that must have gone into designing the cooler must have been truly epic! It screams quality from every angle, from the RoG logo on the face to the Matrix logo on the side. This Matrix logo also very cleverly shows the activity of the card with different back-lit colours signifying the different levels of stress that are exerted on the card. How this may be of use in real-world testing is somewhat beyond me, but I'm sure it has a purpose for many people.
The DVI ports and other connectors on the card also have covers protecting them during shipping. This means that the card doesn't need to be in an anti-static bag, which I felt was a massive bonus as it provided the means for Asus to present the card in its box in the way pictured below. It's the small things like this that can make or break a product (literally), and it only further elevates the thought that Asus put into the card.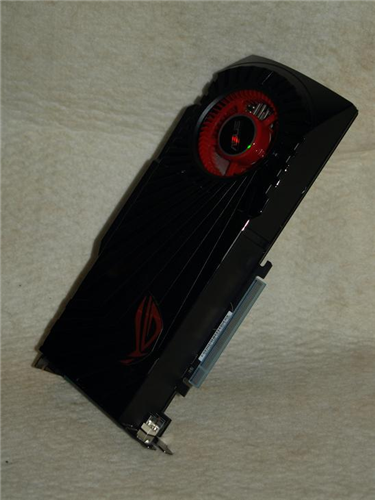 Installation, Overclocking and Benching
With any new GPU, it's worth removing all your old drivers prior to installing the new card, even if the drivers you're going to use are the same as the ones you'll be re-installing. Before I could install this card I first had to remove my other cards; a pair of Asus GeForce GTX 295s in quad-SLI. Installation was as easy as it is with any other card; simply a case of popping it in and plugging in the power cable.
When I'd done this, I booted up the PC and set about installing the drivers. I used the drivers provided on the disc, as they contained the voltage adjustment software as a package-install. My first impressions of the card were that it was very quiet and well behaved; something that you couldn't say about the GTX 295s.
As with any new card that I get, I immediately ran 3DMark Vantage. To my surprise, the machine produced a GPU score of just over 15,000. That's almost as fast as a Radeon HD 4870 X2! After this first run, I then decided to tweak the clocks and voltages to see how far the card could be pushed. At its stock settings, the card is clocked at 662/1,476/2,484MHz. The card is basically the same as a standard card, except it has a revised cooler and PCB.
I didn't have much luck overclocking the card at first, and could only get speeds of 742/1,612/2,696MHz. However, with the help of a Yate Loon DS12H fan, I got the card up to 846/1,822/2,884MHz! At these speeds, the card was far from stable in games, but it could manage a loop of 3DMark Vantage, in which it achieved a very respectable GPU score of 18,432!
For those of you who don't really know much about benching, 3DMark Vantage is not really an accurate representation of gaming frame rates, so basing a card's speed on this test is in itself pointless. Even so, I must admit that I was very impressed with the power that this card was delivering. If it could manage to run my games at the resolution and detail settings I wanted, then the GTX 295s were going to be made redundant.
Gaming
Most games don't really need any more power than a GTX 260 or a Radeon HD 4870 to run at a reasonable resolution with high detail settings, so I figured I would test this new card with GRID and Crysis. The reason for my choice of games was simple. GRID needs to be fluid with as little stuttering as possible, as it's a racing game. Crysis is quite probably the most demanding game ever created, so I thought it was only fitting that I used it. First off, here are the system specs:
6GB of DDR3 RAM running at 1880MHz, CL8
Intel Core i7 920 D0 running at 4.7GHz (235MHz x20)
EVGA Classified motherboard
Samsung F1hard disk
Windows Vista 64-bit SP2
GRID with Stock GPU Speeds
I immediately set the game to run at 2,560 x 1,600 with 4x AA and everything maxed out to see if the Matrix could hold its own against my previous graphics setup. To my surprise, I found that the game was almost playable at this resolution and settings, with frame rates wandering from the very high teens to the low 20s. This is by no means quick, but it's a fantastic achievement for a single GPU that left me feeling pleasantly surprised.
GRID with GPU Overclocked to 794/1,722/2,788MHz
I then ran the game at the exact same settings with the GPU overclocked, but unfortunately found that the minimum and average frames rose by only 2fps and 3fps respectively. This isn't what I would call brilliant, but it's a good 10 percent increase in performance nonetheless.  
Crysis with Stock GPU Speeds
Here I decided to run the game in DX10 mode using Very High settings and 4x AA at 1,920 x 1,200. I ran a quick loop with a few cheats enabled to ensure that I wouldn't die or run out of ammo, and set about blowing things up.
At this resolution and these settings, the GTX 285 did struggle a little, with a minimum frame rate of just 12fps and an average of 24fps. This isn't what you would call playable, but then again there is no GPU in existence that can play the game with these settings without falling over its self whimpering. For this reason alone I figured the results were rather positive.
Crysis with GPU Overclocked to 794/1,722/2,788MHz
I then ran the game with the same settings and the GPU overclocked, and had a play around blowing things up again to see how it coped. To my surprise, I soon developed a rather large grin as the minimum frame rate leapt up to 19fps and the average increased to a playable 27fps. This still isn't what you would call playable, but if you dropped the AA I'm sure you could just about run everything else as it is without issue. Result!  
Opinion
My final opinion of this card was rather good, and I would be more than happy to keep this in my system as the main GPU if I didn't have my other cards. It's very, very fast for what it is, and when you consider that this is a single GPU with roughly 3x less power than a GTX 295 SLI setup, it can definitely hold its own! I'm more than pleased with the results of this card, and can recommend it to anyone.
At present, I have this card in my machine acting as a dedicated PhysX card, along with the 295s. Some of you may think this is a waste, but I can assure you it's not. The extra horse power this has added to my gaming when playing games that support PhysX is immense. It relieves the pressure from my GTX 295s, leaving them to do what they do best, and I couldn't be happier.
I would like to thank
bit-tech
, Custom PC and Asus for the card, and especially Asus for creating and absolute masterpiece that betters an already proven design by a country mile!