Is Google Maps on your phone a TomTom killer?
Posted on 9th Nov 2009 at 11:50 by Antony Leather with 13 comments

I've written a couple of previous blog posts about using my
phone as a sat nav
, and while CoPilot's updates have turned it into a decent app, it's still not a serious rival for a dedicated GPS.
Google's recent announcement that phones running its Android 2.0 OS will all feature free turn-by-turn GPS navigation, however, is something that threatens to change the sat nav market completely.
That said, I don't think TomTom and Garmin need worry about things just yet, and there are several reasons for this. First, we're still talking about running GPS on a phone, so battery life is an issue. The batteries of mobiles I've used that have an integrated GPS receiver are usually flat as roadkill hedgehog inside an hour when using them as sat navs.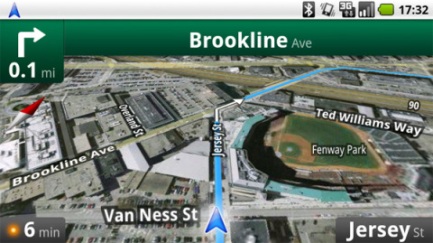 Google's Maps Navigation for Android 2.0 mobiles might have a few flashy features and it's free but will it be more effective than a dedicated unit?
With my iPhone I've got around this by using an external battery pack but this totally defeats the object really - you're having to remember yet another thing to take with you which is the argument for doing away with your dedicated sat nav unit. In-car chargers might be the answer but they're often ugly, interfere with the gear-stick or just don't reach to the windscreen.
Secondly, there's the issue of GPS performance. GPS chips in dedicated units are far better than those in mobile phones (particularly the iPhone) meaning they rarely if ever drop the signal and are quick to connect. The mobiles I've used for the purpose have been no way near as fast as a dedicated unit.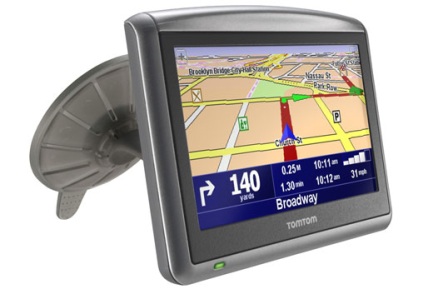 Traditional dedicated units have large screens and superior GPS performance compared to most mobile phones
Thirdly there's screen size. There are only a handful of mobile phones that offer a decent enough screen size to be effective as sat navs but even these are often far smaller than the latest dedicated units which have screens in excess of 4in for a decidedly clearer view.
These three issues will mean that for the people who use in-car sat navs on a daily basis who don't want the hassle of using a mobile will keep their dedicated units and at best, use their Android 2.0 mobile as a backup.
Where phone GPS stands to take over from dedicated sat nav devices is at the low end, the kind bought by people who are very price conscious, or who don't really use it often.I fit into this category, and for £25, the iPhone CoPilot app was all I needed for a 'once in a while' sat nav.