Nvidia launches new budget graphics cards - do you care?
Posted on 16th Oct 2009 at 11:17 by Clive Webster with 29 comments

After years (well, one at least) of Nvidia saying that it doesn't see the need in DirectX 10.1 because developers aren't demanding it and it has some DX10.1 features in its GT200 design anyway, it's finally made a DX10.1 GPU. However, it isn't a huge high-performance part to rival the
HD 5870
. It's a low-end part.
Nvidia has also trialled the 40nm fabrication process with this new GeForce GT 220 and GT 210 line-up.
The question is, do you care?
The reason I ask is that we're now firmly in the DX11 era, so an update to DX10.1 seems pointless at this time, even if Nvidia hasn't got its
DX11 GPU
into the shops yet.
Possibly less encouraging, the new GPUs aren't going to set the frame rate leaderboards alight. The
GeForce GT 220
has 48 stream processors while the
GeForce GT 210
has only 16. What is the point of these cards as a retail product?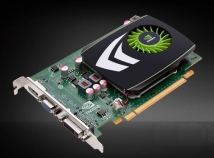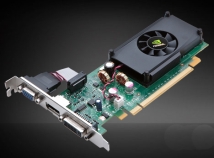 My general problem with cards such as these is that they promise the world for under £50 and yet fail to deliver. Every sub-£50 card I've tested has come in a box with bold claims of super-realistic image quality and amazing performance, but have only yielded a miserable mess of stuttery frame rates and frustration. Even at £50, these cards are been a waste of money unless all you're doing is accelerating HD video or you need something with two video outputs for a multi-monitor setup.
The obvious outcome is that people who have not read the reviews and have bought these cards will be so disillusioned with PC gaming that they'll defect to console-gaming and never look back.
And it seems the industry never learns, as the GT 220 and GT 210 cards come with all sorts of bold claims: "
Smooth graphics is no longer reserved for hard core gamers only!
", "
Packed with 48 cores...
", "
Experience the vivid DX10.1 gaming graphics at good frame rates, or go beyond traditional 3D graphics experience
[with]
Stereoscopic 3D and lightning fast video and image processing
". Sheesh!
So, Nvidia has finally adopted DX10.1, and has proved that the 40nm process in preparation for
Fermi
, but does anyone really care about the new GeForce GT 220 or GT 210 beyond that? Thoughts below please!