Asus Xtreme Global Summit – Blog about your prize and win a trip to Taiwan
Posted on 13th Oct 2009 at 17:04 by Ben Hardwidge with 15 comments

It's time to flex those fingers, dust off the thesaurus and prepare to start hammering out your own exciting tech journal. If you were one of the lucky winners of a ticket to the recent
Asus Xtreme Global Summit
in London, then Asus wants you to blog about how you got on with your shiny new prizes. What's more, your blogging skills could even win you the chance to get flown out to the Asus factory in Taiwan to hobnob with the R&D guys.
In the first round of blogs, we want to read all about your first impressions of the kit you took away on the day. You may have even noticed some interesting features about your new hardware that isn't widely known, for example. We basically want to know what tasks you've thrown at your prize, and how you've got on with it. In particular, we also want to know how useful you've found any of Asus' own features that you won't find on other manufacturers' hardware.
However, before you can start thrashing out your prose, your first job is to sign up to the Asus Member Areas. This is as simple as taking your browser to Asus' new
Republic of Gamers website
, and clicking on the bit that says
"Join Us"
in the top right hand corner. You'll then be escorted to the Asus Member Area, where you'll need to click on the button that says
"Join ASUS Member"
. After filling in all the necessary contact details, Asus will then send you an email containing a link, which you'll need to click on to confirm your email address.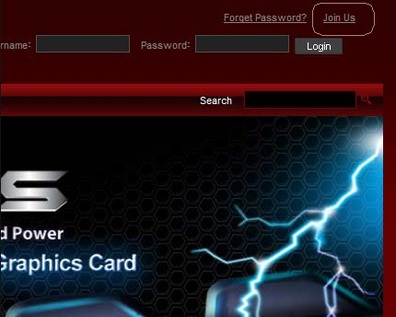 Click on "Join Us" at the Asus Republic of Gamers website.
Congratulations, you're now signed up to the Asus Member Area. Your next job is to fire off a simple email to
xtremedesign@asus.com
, typing
"ROG article posting function"
into the Subject field, and putting the email address from your Asus Member Area account in the body of the email. Asus will then buzz you back with details on how to start blogging, and you can then start scribing your thoughts about your new hardware.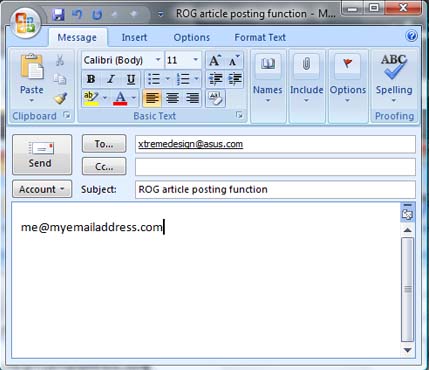 Send an email to xtremedesign@asus.com, typing "ROG article posting function" into the Subject field, and your email address in the body of the email.
As a minimum requirement for entry, you'll need to write two 200-word blogs per week over the next four weeks (a total of eight posts), following the guidelines on
bit-tech
about what we want you to cover. This is by no means a limitation, though. If you've got a magnum opus waiting in the wings with all the details about your first impressions, then you're more than welcome to share it with us. Each blog post also needs to contain a relevant picture to illustrate the point you're making.
Once the blogging bonanza has kicked off, you'll be entered into two competitions. The first is to win the prestigious accolade of
"Best Article of the Week"
, which will be decided by the
bit-tech
editorial team, and the winner will get to see their blog and name up in lights in the
bit-tech Blogs
section. As well as this, every blogger will also get a £200 prize from Asus to say thank you for taking part.
The most impressive trophy, however, has to be the prize for the second competition. One very lucky winner will be taking a sponsored trip to the Asus factory in Taiwan to meet the R&D teams next year. The winner of this second competition will be decided by the editorial team of
bit-tech
in conjunction with Asus, and no correspondence will be entered into. After the blogging period, Asus will get in touch to organise and arrange delivery of a new Asus product to say thank you for taking part, or to sponsor a trip to Taiwan to see the Asus R&D department in 2010.
As well as posting your blogs on Asus' site, you're also more than welcome to post them yourself on the
bit-tech
forums
. You cannot, however, post your blogs on any other sites, although it's perfectly fine to link to the
bit-tech
forums or the Asus Republic of Gamers site from your own website.
Asus has stressed that it wants you to be open and honest about your experiences, but also pointed out that your entries may be edited for spelling and grammar, and to check factual content and ensure that they comply with relevant libel and obscenity laws. Your opinions will remain your own and are not endorsed by Asus or Dennis Publishing, although Asus has the option to use them within its own marketing materials.
The second competition is open to all attendees of the Asus Xtreme Global Summit who also contribute the minimum amount of blogs and is open to anyone from the UK or the following European countries: Benelux, Nordic, Germany, France, Italy, Poland, Czech Republic, Spain, Portugal and Hungary. Entrants must be aged 18 or above.
Don't worry if you missed the Asus Xtreme Global Summit event, though, as you'll still have the chance to participate in future Asus events. To find out which events are coming up, you can either keep a regular eye on the
Asus Republic of Gamers site
, or you can follow Asus on
Twitter
.
Employees of Asus and Dennis Publishing and its subsidiaries, affiliates, advertising and promotion agencies and immediate families (defined for the purposes of these rules as husband, wife, mother, father, sister, brother, son, daughter, or persons residing in the household of such employees), and anyone else professionally connected with this competition, may not enter. The promoter reserves the right to verify the eligibility of entrants to check their identity. The promoter is Dennis Publishing Ltd and Asus Computers.
In addition, Dennis publishing's standard competition terms and conditions apply. These may be viewed
here
.