Using the iPhone as a Sat Nav Part II
Posted on 5th Oct 2009 at 10:33 by Antony Leather with 10 comments
I blogged a few weeks ago about my
experience with the TomTom and CoPilot apps for the iPhone
. In short they were all but unusable and I was left feeling pretty dissapointed, not to mention thinking that the iPhone simply wasn't up to the task - or even that it was faulty. A lot has changed since then though, I've got a refund on one, and the other has received an update which promissed improved GPS performance.
With no update planned for the unusable TomTom app combined with the fact it cost me close to £60, I decided that a refund was in order. I also decided that if CoPilot failed to work after its update, I would go for a seperate Sat Nav unit and make rude jestures at my iPhone. Luckily the refund wasn't an issue, and a quick email to Apple through iTunes saw the money back in my account a few days later.
The CoPilot update took a few weeks to arrive but during a rainy evening a few weeks ago, I installed it and went out for a drive. Things didn't start off too well with CoPilot's second test. Initially I was about to throw my iPhone out the window then reverse over it a few times. The red location icon failed to lock on to my position and showed me as being half a mile away. Things seemed to have got worse not better!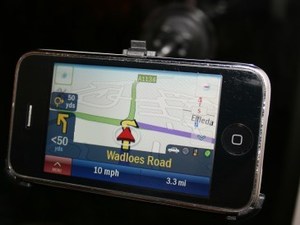 However, the instant I started moving, things kicked in and CoPilot immediately started to follow me. What's more it did so smoothly and without losing the connection once! Complete contrast to how things were before the update when it would lose my position every few seconds.
Last weekend I took it on the motorway and to my great delight it performed just as well there too, with no signal drop outs and a silky smooth polling rate. It updates the screen several times a second and even manages to keep you pin pointed when going round a roundabout.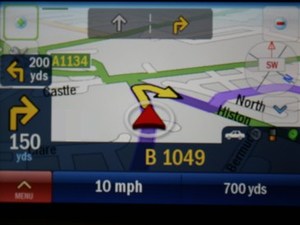 CoPilot really has come up trumps with the latest update and the app has come in to its own, meaning I can finally use my iPhone as a Sat Nav. The best bit is CoPilot cost less than £30, so it saved me money on a dedicated unit too.
It begs the question what have they done to make it so much better? I really did think the GPS in the iPhone just wasn't up to the job the first time I tried these apps out, but I've apologised to my phone since then and we're now best of friends again. What ever has been done to CoPilot though, the TomTom app could certainly benefit from some of the same tweaking.
Going on a road trip? There's (now) an app for that, so let me know where you're heading off to in the comments below.