Need for Speed Shift Impressions
Posted on 11th Sep 2009 at 17:45 by Antony Leather with 7 comments
When it comes to racing games on the PC, I'll freely admit that I demand a certain amount of realism. The hole Fast and Furious wannabe culture just doesn't do it for me. So, when I learnt that EA Games had invited us to see the latest title in a long line of
Need for Speed
games that are traditionally a bit tongue in cheek when it comes to realistic driving, I was pretty underwhelmed.
My first thoughts, were along the lines of 'oh no not yet another boring, flashy, hyped up arcade racing game bursting with skimpily clad models and RnB?' However, having then learnt that
Need for Speed: Shift
was actually an attempt at a more realistic experience with the guys behind titles such as GTR and GT Legends on board too, I jumped at the chance to take a look at what promises to be a very very different animal to any
Need for Speed
title you've played.
However, if the thought of playing a hardcore racing simulator makes you gag then you'll be pleased to know that
Shift
is more than that. It has money, tweaks, tuning and styling galore not to mention over 70 cars to choose from as you progress through the various tiers in the career mode. However there are some really unique features to the game that stand a good chance of making it very popular to play both on and offline.
We started by getting Andy Tudor,
Shift
's lead designer, to answer a few questions:
bit-tech:
So really the big question with
Shift
is why the change in direction away from the arcade style racing of the past like we saw in
Underground
and
Carbon
, to a more realistic game?
Andy Tudor:
Well
Shift
is quite literally more about a big shift in gameplay and developer rather than a cool sounding title for the game.
Shift
is about appealing to a wide range of gamers too. The last few
Need for Speed
titles haven't been as popular as previous ones so we saw the need for a change in gameplay which came together in
Shift
.
bit-tech:
So the finished article is comparable to what?
Race Driver: GRID
or is it slightly more hardcore like
GTR 2
?
Andy Tudor:
It's got a bit of everything in there to be honest. We've taken real circuit telemetry and applied it to the track models. We have in depth tuning and perfomance enhancement as we all visual customisation. We've also added more realistic effects to the game experience too.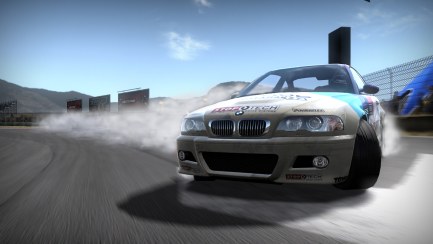 bit-tech:
Okay so how are these effects applied to the game? What can we expect?
Andy Tudor:
One feature we love is how the game responds to the extreme forces involved in racing. When you spin off and hit a wall, your vision goes blurry for a few moments just like it would in a real impact. The cockpit view also returns in
Shift
and we added a few tweaks here too. When you accelerate and decelerate, the cockpit moves forwards and backwards slightly enhancing the feeling that your moving. We spent a lot of time on the cockpit mode too. We found that in games like
GTR
, the cockpit felt very enclosed with poor visibility.
Shift
looks much nicer in our opinion, we spent a lot of time on the cockpit detail.
bit-tech:
You mentioned earlier about appealing to a wider audience. If
Shift
is more realistic, won't this mean those who prefer a more arcade style of driving will look elsewhere.
Andy Tudor:
Shift is very scalable. When you start the game you'll complete a test lap. It's a way of analysing your driving style - do you keep to the racing line, are you taking corners at the right speed, do you spin off regularly that kind of thing. At the end, this analysis automatically fine tunes the level of diffuclty to your ability so things like the AI and steering aids are ajusted to suit you. The thing to get across here is accessability for everybody so if you're a pro tournament winner or my nephew who's got the game for Christmas they can complete the test lap or dial the difficulty in themselves so they can enjoy it.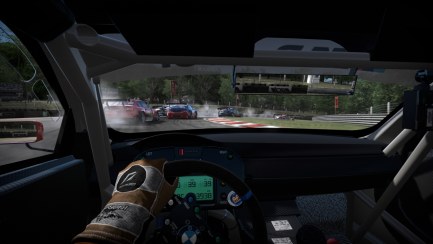 bit-tech:
That sounds great. So moving on to actual game play, how do you start?
Andy Tudor:
Every race gives you the opportunity to earn money. At the start you obviously not able to afford a Bugatti Veyron but you can get things like the Volkswagen Scirroco and Mazda RX-8 and plenty other pretty sweet cars. They all have performance stats that improve as you upgrade them and some events are car specific too such as the manufacturer race events.
Once you've bought a car part of the fun you'll be familiar with from previous
Need for Speed
titles is that you keep them for a while and tune them. This is definitely the case here. The more money you get, the more upgrades you can afford. There's also a points system in the game that tracks how you drive and awards you accordingly.
You get points for being precise and accurate but also for being aggressive so whatever your driving style, you will progress and hone your skills. This all adds to your driver profile which will be visable online so people can see what kind of a driver you are and whether they want to race you.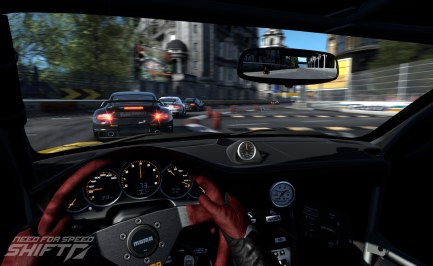 After that it was hands on with the game and I have to say I'm suitably impressed, at least in as far as my previous experience with
Need for Speed
games goes. We'll have the full review for you next Tuesday so keep an eye out on our
gaming
section. I also spoke about the game in our recent
podcast.
In the mean time EA Games are offering those who pre order
Need for Speed: Shift
the chance to unlock the Porche Caymen S as soon as you get the game. Read more
here
.