WIN: Asus Xtreme Global Summit Competition Week 4
Posted on 19th Aug 2009 at 16:18 by Alex Watson with 18 comments

So far we've announced 15 of the 20 winners in our Asus Xtreme Global Summit competition, over the course of
three previous blogs
looking at the various design innovations Asus is introducing in its upcoming P55 boards. It's now time for the fourth and final giveaway of tickets! Read on to find out how you can get your hands on one.
This week we're all about overclocking. We've previewed the upcoming P55-based Republic of Gamers motherboard, the
Maximus III Formula
before, and it's certainly one board we're very keen on getting our hands on.
Asus sent us some more details today about how the board will apparently evolve the RoG Connect feature. This is present on some current RoG boards, and allows you to connect the gorgeous (if pricey)
Asus OC Station
. This is a piece of dedicated overclocking hardware that slots into the front of your case and allows you to directly control how the system overclocks.
We liked what we saw, but it seems the next generation of Asus boards are going to go quite a bit further. Here's what Asus had to say:
"During Formula 1 racing, you often see a car engineer staring the notebook and fine tuning the parameters of racing car to make it more capable of being a champion. That's why the ROG team gave birth to ROG connect, a feature allowing you to control the whole system via a laptop."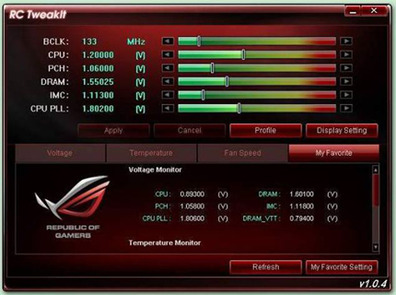 A screenshot from the Asus doc, showing the RoG connect software
The document we saw goes on:
"With the existence of RoG Connect, your laptop can be linked to the main system simply through a USB line. When the 'RoG Connect' button next to the USB connector is pressed, the USB connector turns into a special pathway directly to iROG [note: a dedicated IC on the board] for all the tuning and tweaking options. Its intuitive user interface makes easier overclocking possible. You can save up to five different custom profiles with various voltage settings and these can then be easily accessed during the various stages of overclocking the system without the need to enter the BIOS. RoG Connect not only allows you to view real-time POST code and hardware status readouts on your notebook, it lets you make on-the-fly parameter adjustments—such as voltages and frequencies—at a purely hardware level. The ROG Connect interface is fully customizable to suit your specific tuning needs."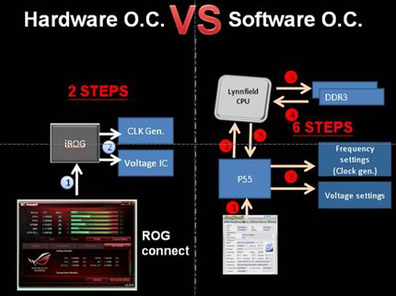 According to Asus, having a dedicated chip on the board makes it easier to apply overclocking settings
I've got no problem with PC kit inspired by fast cars, but I was curious as to why you need the laptop – but according to Asus it's so you can control and tweak the PC while it's running a benchmark such as Vantage.
WIN WIN WIN
The final five tickets to the Asus Xtreme Global Summit in London on the 28th of August are up for grabs. And the question is... what single tweak, invention, feature, BIOS option or idea would make overclocking better for you?