When three storms collide
Posted on 17th Aug 2009 at 15:53 by Antony Leather with 14 comments

I was at a press event last week and whilst on my rounds meeting and greeting various hardware manufacturers and distributers, it was clear that a storm is brewing in the PC industry. However, in spite of the recession, this isn't a storm that will dampen our spirits further.
In contrast it will hopefully send a bolt of lightning right up the backside of any kind of daemon that has a financial grip on the IT industry. In fact it's what some might call a 'perfect storm' which, if you've seen the film, can only happen when two or more storms collide, the more the merrier really, unless you're a swordfisherman that is.
In this case, these storms are Windows 7, DX11 and Lynnfield and all are coming to an etailer near you before Christmas.
Whenever a new version of Windows is released, there always seems to be one or two particular hardware upgrades that are key. With Windows XP, I'm sure we all remember the upgrade from 256MB RAM to 512MB? With Vista, well, you could throw your life savings at it and it would, at launch still run like a pig.
Most of us at
bit-tech
have been playing with the release candidate of
Windows 7
for a while now and we're big fans.
So what are the key upgrades going to be for 7? While Bill Veghte, Microsoft's top Windows Business Exec,
said earlier this year
that he doesn't expect the Windows 7 release to significantly boost PC sales I'd have to disagree having seen the huge commotion that was unleased on various bargain hunting sites over the cheap Window 7 pre-orders over the last few weeks.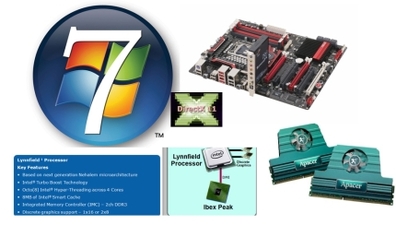 Will this autumn bring the next big upgrade-fest?
In terms of memory usage, if you got 2-4GB in place for Vista, more seems overkill. So it's not RAM - nope, its SSDs, particularly as 7 adds TRIM support.
Vista brought DX10, and Nvidia timed the release of its brilliant GeForce 8800-series to perfection, and sold a lot of cards in the process. Windows 7 should see the introduction of DX11 (if not at launch then soon after), but seeing as we're still eagerly awaiting ATI's and Nvidia's DX11 offerings it's a bit too early to tell which (if any) is going to be a must have upgrade. You can read more
about DirectX 11
in Tim's big preview to keep you occupied though.
Lastly there's Lynnfield aka Core i5. While I've seen a few Core i7 laden signatures in the forums, the uptake of Intel's high-end desktop processor has been far slower than that of the original Conroe Core 2 when it was launched. The issue has been price of course with the need to buy new RAM as well as the hefty cost of CPUs and boards as well.
Thankfully Lynnfield is shaping up to be what we need/want it to be and first... we don't yet know CPU prices, but DDR3 has fallen so you can get 4GB for just over £50 or so. Of course you'll have to fork our for a new CPU and board too, not to mention cooling, but we're pretty excited by Core i5 so chances are this will be a popular upgrade.
Windows 7 - DX11 - Core i5 - thee big things coming your way in a rare event with enough mass to potentially make big waves in pretty much every pond in the industry. The question is, will you be opening your wallet this autumn and if so what shiny new hardware will likely end up on your doormat?