Will Boxee's $6 million help make media PCs less rubbish?
Posted on 14th Aug 2009 at 08:17 by Alex Watson with 18 comments

Last Friday we sent the latest issue of Custom PC off to the printers – and it's back already, looking mean and moody with a water-cooled PC on the front – so it means this week I've been starting my tasks for the next issue. First up, the letters page, and I've just answered an interesting one about media PCs.
Specifically, why they're rubbish – I had a long email from a reader detailing a pretty tortuous experience building and setting up a media PC. Despairingly, he'd turned to us to see if we could alleviate any of his misery.
Unfortunately, my reply to the reader's question wasn't much of a consolation. On the one hand, the team has a lot of experience with media PCs – I think most of us either have one at home, or have had one at some point. On the other hand, few of us have many good things to say about them.
They crash.
They're noisy.
Certain video files won't work.
They love throwing up totally bizarre errors (mine won't play audio from DVDs in MCE, when audio works fine from MP3s, for instance).
The remote controls don't work properly.
Update boxes appear while you're watching films.
The list goes on and pretty much everyone who's had them ends up thinking Sky Plus is better.
And yet, and yet, in some senses they clearly are the future. They work brilliantly with BBC iPlayer; storage is so cheap as to be effectively limitless allowing you to assemble a huge collection of media. You can access TV shows that aren't available in the UK – be it anime, or even big US drama series' such as Friday Night Lights. You can watch YouTube on the big screen.
If you've built a few PCs you can get round some of the issues with hardware, and build yourself a fairly small and quiet machine fairly cheaply. The
Gigabyte 785G
board Rich reviewed last week costs under £70 and has HDMI built in, for instance.
The problem really comes with the software. Windows Media Center is fine… but it has its issues, the biggest being its lack of compatibility with a broad range of video files. You need something like VLC to cope with MKVs – but VLC doesn't have a remote control friendly interface.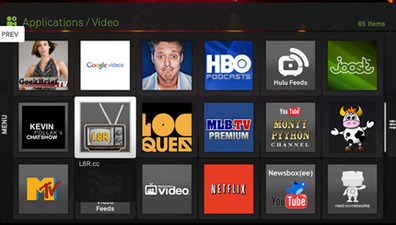 Hi, my name is Boxee...
One of the pieces of software that I think shows the most promise is
Boxee
. It's come a long way since we
first previewed it
and at its best, it combines the wide-ranging compatibility of VLC with MCE's slick interface. It's also got some interesting social features, and easy-to-add plug-ins (which they call apps, because, hey the iPhone is popular). These add streaming from sites such as MLB.TV and The Onion and when it works, it's really cool.
When it works being the operative phrase – Boxee is alpha software, and it shows. Still, they just announced they've
secured $6 million in funding
, which is terrific news for media PC enthusiasts. Well, it could be. Boxee has said it's going to use the money to improve the product (that is, the software), but it's also interested in building its own hardware. That could prove to be very, very expensive and time consuming.
Still, for the time being I think Boxee is one of the most promising pieces of media PC software around, and the fact it's got a decent amount of cash behind it should mean a steady stream of updates.