WIN: Asus Xtreme Global Summit Competition Week 2
Posted on 7th Aug 2009 at 10:28 by Alex Watson with 32 comments

Motherboard manufacturers have long published QVL ("Qualified Vendor List") lists for their motherboards, listing the memory modules the board will work with. It's a necessary step given the huge number of memory modules, and memory companies who make RAM, but I'm willing to bet I'm not the only PC enthusiast who's built a PC without taking the time to look at the QVL list.
If PC enthusiasts don't pay particular attention to the QVL list, you can imagine how much attention it gets from less technical PC builders – about as much as a bog standard Storm Trooper at a Star Wars convention. Using memory that's not on the QVL doesn't automatically mean you'll have problems, but it can result in numerous odd gremlins, or the system failing to boot.
So, what's a motherboard manufacturer to do? Read on for Asus' plan to save hasty PC builders from themselves.
If you read Rich's recent review of the
Asus Rampage II Gene
, after getting over how small it is (yup, mATX Core i7 with twin full length PCI-E slots), you might have noticed a new feature called Mem OK!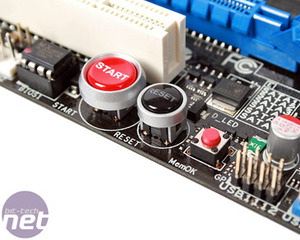 If you build a PC and encounter issues which might be related to memory, you can press a button the board's PCB, and then magic happens and it all gets sorted out. OK, so it's not quite that simple, but it's still a pretty nifty system. Essentially, the board will start trying various different memory parameters in order to get the memory working. It means you don't need to worry about memory compatibility issues anymore when building a system.
It's something Asus hopes will come in handy when building a PC, but as Rich pointed out in the review, it could also be handy if you upgrade your system's memory and the new DIMMs require a BIOS update to be supported – you could hit Mem OK! To get the system working and then update the BIOS and fiddle with the settings yourself.
WIN WIN WIN!
Ah, the bit you've all been waiting for – the chance for five lucky readers to win a ticket to the Asus Xtreme Global Summit in London on the 28th of August, along, of course, with top hardware prizes. This week's competition question is simple: what's been the trickiest, most complex or most frustrating problem you've had when building a PC? Post you answers in the comments, and we'll pick the five best!