MSI: Finally hitting the nail on the head
Posted on 4th Aug 2009 at 12:07 by Richard Swinburne with 11 comments

Where other motherboard manufacturers have fallen by the wayside (DFI, as proved by both the mediocre
DK 790FXB-M3H5
, and the reader reaction to it), or given up altogether (Abit, Epox), MSI is moving onwards and upwards.
MSI used to consistently languish in a distant third place (compared to Asus and Gigabyte) but this year not only has it really challenged the dominant two, in my opinion, it's successfully achieved a top tier place with many recommendation-worthy products.
For those who know me, writing something so unanimously positive is a difficult objective, being the critical barsteward I am. This reputation seems to have carried more than I've realised, as the conversation below proves after I tweeted that I was writing
"a blog about MSI"
. Thank you for your honesty, my anonymous friend.
Not Doug says (21:50):
Rude blog?
Richard :: bit-tech says (21:51):
Positive
Not Doug says (21:51):
SHOCKMAHORRA!
Richard :: bit-tech says (21:51):
I know
Not Doug says (21:51):
I thought you were meant to be rude to everyone

However the more I write this the more obvious it seems, so, I can be nice when the situation calls for it!
I think MSI started to turn the corner with its P45 boards: the DrMOS and GreenPower design was (and still) is excellent, however BIOS updates took longer than many enthusiasts wanted to wait, and the high-end features MSI offered still seemed six months behind the competition. It was a nice try, but lacked ingenuity.
Next came the X58 era - the
Eclipse SLI
was a better name than Platinum and Diamond for the masculine enthusiast audience, and the aesthetic design was much improved, too. It also sported useful features that now matched the competition: an in-BIOS flash utility made an appearance, even if it did take a few tries to get right. Persistent BIOS niggles and (in my opinion) a heatsink to small to keep the X58 chipset cool when overclocked slightly soured the picture. The bundled GreenPower software was a nice idea didn't really work and the GreenPower Genie was as useful as a chocolate teapot. It still performed well, looked great and if wasn't yet a challenger to
Asus' P6T
, it set the tone for some excellent subsequent X58s.
Since Q2 this year though, the company has barely put a foot wrong! Its AM3 boards have set a record yet to be matched: between CustomPC and
bit-tech
we gave top-to-bottom recommendations for its range, from the
GD70
, through GD65 and C45 boards - they all make the grade in terms of performance, overclockability and features in their respective price brackets.
The latest
785G-E65 board
also looks to be the business in terms of style, features and overclocking. Certainly on the layout front, it's more impressive than the
Gigabyte GA-MA785GMT-UD2H
I've just finished reviewing. But while Gigabyte has gone for the usual "dozen SKUs to flood the market approach", on the surface MSI appears to have nailed it with just the E65. That is, depending on the price...
Recently the Eclipse SLI Plus impressed CustomPC too, almost as much as the Asus WS boards that have gone into James' recent Folding features, and for those with the latest subscriber edition of CustomPC, it makes for a damn tasty cover photograph too (see below!)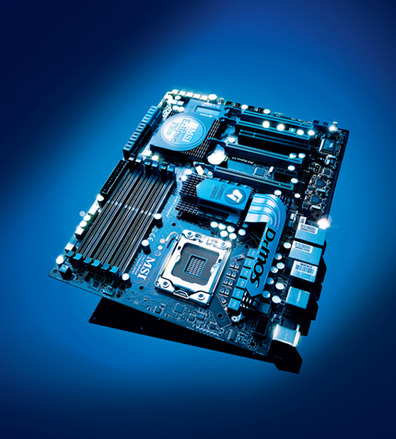 We've just had the latest P55 boards in our labs, and while we've gone through Asus and Gigabyte's latest set of features for their respective Lynnfield motherboards in separate articles, the MSI's are just as impressive in their own right (on paper) and arguably even more innovative in terms of everyday features that people will use.
An example where MSI is pursuing a more successful strategy to its competition is that it continues to push the use its "DrMOS" MOSFETs. It's not chasing the Asus/Gigabyte model of the race to a million phases, instead just several phases are "enough" for everyone bar extreme overclockers, of which, there's no
real
market to profit from anyway. PR e-peen is the only thing that benefits from overclocking competitions. A further endorsement is that overclocking supremo's EVGA has taken to using the same ICs in its P55 designs as well.
MSI
had
a lot of catching up to match Asus and Gigabyte, but honestly, I'd say it's not only caught up, it's successfully carving out its own nice niche as well. Really the very last step is to achieve overall awesomeness in the BIOS and it'll be a touch decision and great competition in the future.
The one downside where MSI doesn't yet compete is in terms of gaming hardware brands: EVGA (as a whole), Asus's Republic of Gamers and to a much lesser extent, Foxconn's Quantum Force have a lot of popular appeal.
Does MSI need to jump on the "gaming brand" bandwagon? Should it squeeze out more development for a new discrete brand and division? We're aware of Asus' RoG chips "designed for overclocking" but I don't think the end user is educated, or listens in the same way, to expect MSI's latest CoreCell revision that claims to do the same thing.
So while Gigabyte and Asus might continue their private and sometimes public phallic swinging matches up and down the
Danshui/Xiandian line
, MSI has crept up to push them both off the pedestal. Personally I'm glad to see a company doing well, rather than seeing
yet another
market that ends up in a two horse race. Keep going MSI (and same to the smaller guys such as EVGA or Biostar) - make 'em sweat.