Monkey Island released for iPhone and iPod
Posted on 23rd Jul 2009 at 10:30 by Alex Watson with 9 comments

Before I leave the house each morning, I use my iPhone to check email - it's quicker to use my WiFi to download the message list than to try with spotty 3G on the train - and there was a message from
Joe
. He's just left for a well deserved long weekend on holiday. The message was titled:
IMPORTANT.
He'd sent it at 7am this morning. Immediately, I wondered what was wrong.
Inside the email was
this link.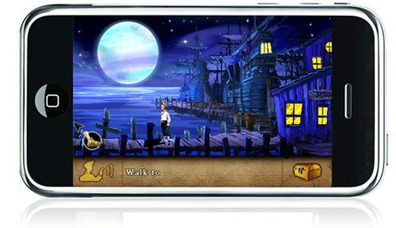 Yes, The Secret of Monkey Island is out for the iPhone, and it appears to be the same
Special Edition
- with the rejigged graphics and voice overs - as the desktop version we looked at last week. 351MB and £4.99; anyone tried it out yet?