iPhone 3GS – the Apple tastes sweet
Posted on 6th Jul 2009 at 10:26 by Antony Leather with 33 comments

I blogged recently about the fact that while
I hate Apple
, I was considering acquiring the new iPhone 3GS. The reasons for this was that I wanted something a bit lighter and easier to use than my HTC TyTN II which sported Windows Mobile 6.1. Well, I've now owned a 3GS for just over a week and in short, it's everything I wanted and more.
However I'm not going to jump headfirst into some crazy Apple love-fest spiel and no, it's not because I still hate Apple (which I do), nor is because I got the phone for free and have been paid to (neither of which are true). It's because I've come from using what was meant to be the pinnacle of the iPhone's competition and instead I'm left wandering what the hell Microsoft and Nokia for that matter have been doing for the last few years.
Now first I'll say that most of the things the iPhone can do, other devices can do. In fact the latest HTC handsets such as the HTC Touch HD can do more such as play a greater range of audio and video files as well as sporting higher resolution screens. They can run all manner of applications and until last weekend the iPhone didn't have a true turn-by-turn sat nav application (it now does with
Navigon MobileNavigator
) while there were plenty available for Windows Mobile and Symbian, with GPS enabled Nokia handsets even coming with Nokia Maps as standard.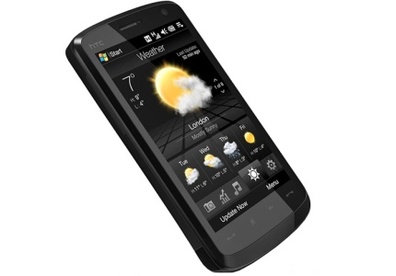 The HTC Touch HD is one of the iPhone's main competitors but it doesn't come close to being as slick and easy to use although it does boast a higher resolution screen.
They can also surf the Internet but while Mobile Internet Explorer isn't worth the storage space it takes up, I'll cut a little slack here as Opera Mobile improves things no end.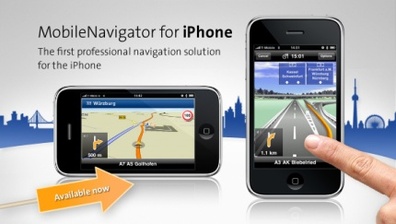 Navigon's MobileNavigator is the first true turn by turn sat nav app for the iPhone
So why is the iPhone so good? While it can also do these things it adds one massively important thing to the equation – it does them well. Very well. In fact every task I've undertaken from playing videos and music, surfing the Internet to taking photos and video, even using maps, contacts, calculator and a handful of third party apps, has been so perfectly polished and are so easy to use and responsive that I've been able to master the device in a few hours. It's a pleasure to use when typing, especially with the landscape touchscreen keyboard, miles better than the slide out monstrosity on my TyTN II. Also as it's so popular there are thousands of accessories from slide on extended batteries to docking speaker systems.
Despite having used it solidly for what must be more than 20 hours, it hasn't crashed or locked up either, something Windows Mobile did frequently on several different custom firmware's I tried. I would even go as far as saying it feels like using an OS after a fresh install – it responds instantly to commands and clicks.
While I've yet to master iTunes, synchronising hasn't been too challenging. I've even found a brilliant application called iPlayer Downloader that saves
BBC iPlayer
streams allowing you to simply import the file in iTunes and transfer it
I knew the iPhone was good but I didn't think the 3GS would turn out to be so stageringly useful and easy to use. There is quite literally an application for everything now so whether you want to watch videos, play music, check the tube train arrivals at any station or use it as a Sat Nav or even as a leveller, there are applications for this.
In addition, Apple has added a few things to the 3GS that makes it even better than the 3G including more RAM and a faster CPU that really do make it much nippier. There's also a digital compass which is starting to make a big difference to quite a few applications - Maps for example, rotates the view to the direction you're facing. In addition the touch screen has received a coat of oleophobic polymer which greatly reduces finger print smudging.
I've been after an all-in-one device since before the Nokia N95 was released. The idea of being able to have an MP3 player, video recorder, digital camera and a phone all in one device was a dream. Having given up on this quest, I suddenly realised that at last I have it. The iPhone 3GS does practically everything, and it does it well and every other device is left playing a huge game of catchup in at least one area. The likes of Microsoft, HTC and Nokia have a lot of work to do.