New laptops at the Asus Lamborghini Event
Posted on 30th Jun 2009 at 11:19 by Alex Watson with 5 comments

Last week we headed along to the Lamborghini dealership in South Kensington to
pick up the keys to our new car
check out Asus' laptop line-up for the second half of 2009. Asus announced its first Lamborghini branded laptop, the VX1, back in 2005, and has been steadily producing computers tangentially related to supercars ever since, so the venue wasn't completely inappropriate.
Putting your laptops next to some of the world's most beautiful supercars has several notable effects: firstly, it does make them look a bit cheap. Secondly, it makes them seem cheap. After all, for the price of the bright orange Gallardo LP560-4 you could bag yourself 561 Eee PCs.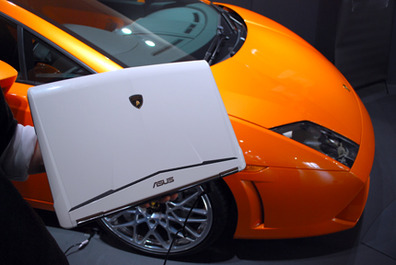 The VX5, alongside a real Lamborghini
Click to check out the price...
Although we'd seen quite a few of the models on show already when we out in Taipei for Computex, there was enough tech on show to distract us from ogling the Gallardo, at least for a few moments. Most notable was the G60, a new Republic of Gamers laptop, while a model based around Intel's new Consumer Ultra Low Voltage (CULV) CPU also caught our eye as did a P55 Lynnfield motherboard which was doing the rounds.
First up, the G60. It uses Nvidia's new mobile GPU, the GeForce GTX 260M, and is packed to the gills with hardware, including a Blu-Ray drive, HDMI out, N Wireless, a quad core CPU and a 16in screen. The chassis is predominantly white with some aggressive decals and a carbon-fibre effect relief at the base of the screen. This wasn't really to our taste but we did like the look of the G60 when opened up though. It has a 'chiclet' style keyboard (i.e. all the keys are separate squares), which is backlit, and brushed aluminium buttons for the trackpad.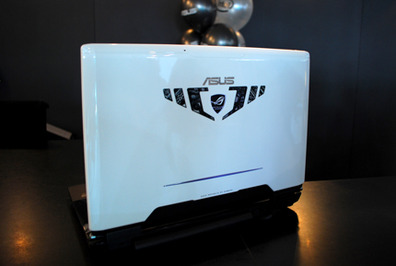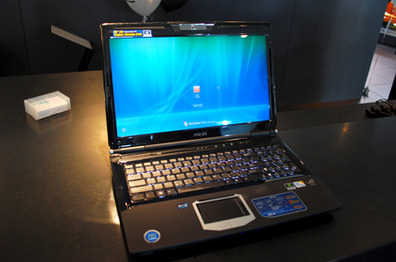 The G60, the new Republic of Gamers laptop
The CULV machine on show was the U20, a laptop with a 12.1in screen and, like the G60, a nice looking backlit keyboard. CULV is Intel's attempt to provide a bridge between Atom and its fully fledged mobile Core 2 CPUs. The idea is that CULV will enable laptop firms to make machines which are, like netbooks, small and sleek, but with better performance – and higher prices for improved margins. Asus was pitching the U20 with a recommended retail price of £799.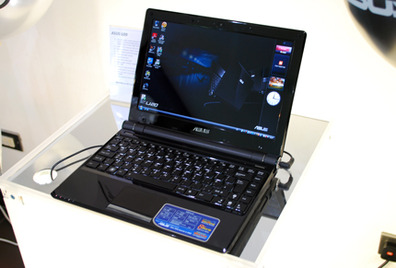 The P55 motherboard was the P7P55 Pro. Although Asus didn't give us any indication of pricing, the slimline heatsinks and large areas of empty PCB mark it out as a mid-range board. Once we'd taken a couple of snaps, we went back to checking out the cars before heading back to base. Reviews of this kit to follow soon, hopefully.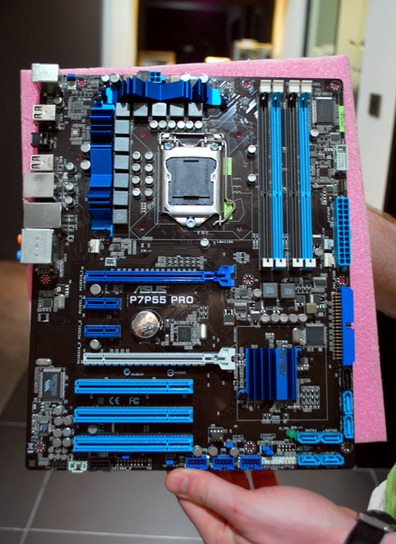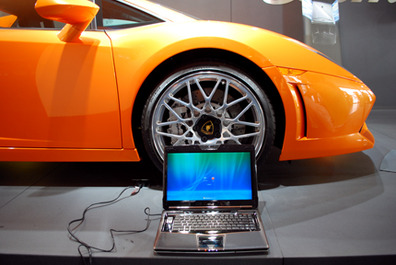 The new VX5 Asus Lamborghini laptop, in front of the Gallardo's enormous wheels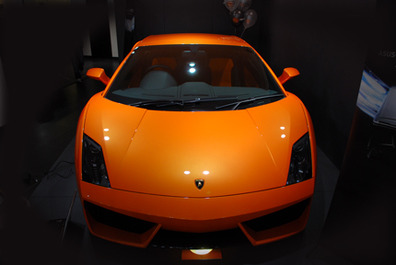 We've asked Lamborghini for a review sample.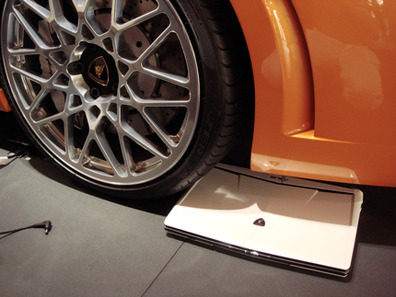 Now that we've incorporated a Lamborghini into our laptop testing, we're going to need one of our own. Wonder if we can put it on expenses?