Graphics Bargains Ahoy
Posted on 19th May 2009 at 11:15 by Antony Leather with 8 comments

Are you in the market for a new graphics card? Well, for the first time in quite a while, there are some great deals to be had. While the
ATI Radeon HD 4770
and
Nvidia GeForce GTX 275
are good deals, in the past I've rarely bought new hardware as soon as it's released. What I've tended to do is wait for new releases and then look at older, high-end hardware, as prices tend to tumble.
The flurry of new graphics cards has meant some interesting deals appearing online for hardware such as ATI's Radeon 4850 X2 Nvidia's 192- and 216-core GeForce GTX 260s. I spotted a 1GB version of the former retailing for £139 in a one week deal which, despite the fact that CrossFire won't be advantageous in all games, is still a hell of a lot of graphics card for your money. It's also less than half the price it cost when it was released last year. GTX 260s have also been falling in price faster than second hand Aston Martins and I spotted a 192-core version going for just £114. More recently, I was tempted by a HD 4870 X2 retailing for just £258 which is the first card we saw to tame Crysis at 1,920 x 1,200 at uber settings.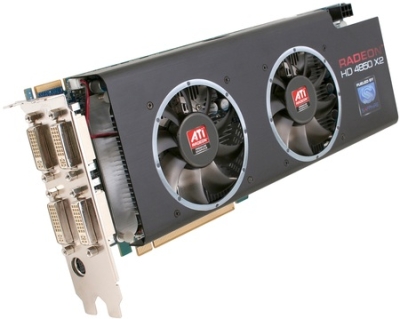 The Radeon HD 4850 X2 - it's a bargain right now
These kind of price crashes only occur when both ATI and Nvidia have back-to-back generations of comparably priced and comparably performing hardware and with ATI's new HD 4890 and HD 4770 pushing down prices of the likes of the HD 4850 and HD 4870 , with the same being true for Nvidia's GTX series and the 9800 series (albeit the latter are nothing more than re-badged 8800's), you've got a combination that's stirring up the beginnings of a price war amongst retailers as they try to shift the old stock to cope with the newer hardware.
This is fantastic news for credit crunched enthusiasts everywhere as it means performance that last year cost over £250 will soon be had for less than £100, (probably even less on Ebay) as people wake up, smell the silicon and realise paying £200 for a second-hand GTX 280 is like taking a big bite of fail cake when you consider a brand new GTX 275 is faster and cheaper.
It also means that I might at last get some decent frame rates in Crysis in DX10 mode at 1,680 x 1,050 and I dare say my poor overclocked 8800 GTS 512MB will breath a sigh of relief. Yes yes, Windows 7 will bring DX11 with it but even if the introduction of DX11 enabled games is twice as slick as that with DX10 enabled games, I certainly won't be placing DX11 compatibility at the top of my wallet's to-do list just yet so when the time is right I'll certainly be striking.