iDracula, it's like The Chaos Engine on the iPhone
Posted on 3rd Mar 2009 at 11:08 by Alex Watson with 6 comments

Like
The Chaos Engine
(and
Smash TV
and numerous others),
iDracula
is a frantic shooter with a top down view and a principle mechanic that separates your character's direction of movement and his direction of fire. Unlike games such as
The Chaos Engine
, in
iDracula
there's no story, and only one level. That level is Spartan too – there are no doors to open, and no levers or switches. There aren't even any wooden crates.
All you have to do is survive an endless onslaught of bad guys (and weirdly enough given the name, none of these bad guys are actually vampires).
It's currently number 1 in the iTunes chart for iPhone and iPod Touch games, and it's not hard to see why. It's only 59p, the graphics are great and it's action from the get-go. Given the title, you'd expect to be fighting vampires, but so far I haven't seen any – I have however, killed enough werewolves to make enough wolfskin suits for a football team, plenty of creepy-crawly dudes and I've bagged enough wizards to remake Lord of the Rings.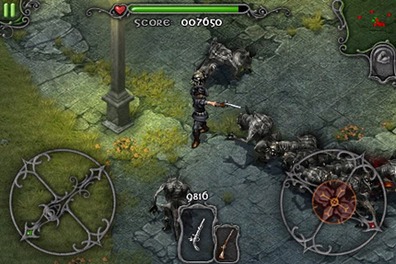 The single level is dotted with gaslights and centres around a spooky fountain. These can both help and hinder you as you dodge around trying to avoid legions of supernatural enemies. To fight them off you start off with a pistol but can pick up crossbows, rifles, grenades, and more, and there are also RPG-lite power-ups available for your character. One of these is even, rather niftily, named after
Fieldrunners
.
In terms of responsiveness, iDracula's control system is perhaps the best thing about the game, as it's one of the few iPhone games that manages to replicate much of the precision of a traditional joypad. It does this by doing away with any use of the motion sensors, and opting for two dials on either side of the screen. One controls movement, the other, direction of fire. The only issue is that your character can sometimes end up under one of the dials. Tighter camera tracking could solve this, although it's not a problem that ruins the game.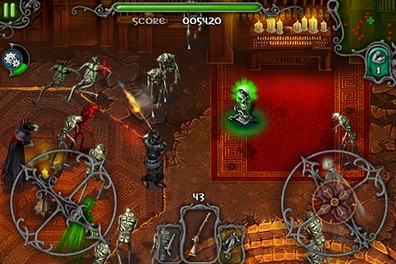 iDracula
handles interruptions such as calendar reminders well, although the level takes a while to load – this could do to be improved. I would also ask for more levels, but the developers posted the screenshot you see above on the
TouchArcade forums
so they clearly have plans to develop it. There's also a
slideshow on YouTube
showing more new levels. At 59p, it's definitely worth buying.
iDracula is available for iPhone and iPod Touch. It costs 59p/99c from
the iTunes store
.